"There might be bluff, there might be fluff, here at Premier League poker".
Just one of the dozens of random soundbites that Jesse May has been coming out with for the tape while we waited for this evening's heat to begin.
One of the perks of reporting on a televised poker tournament is being able to see all the bits that don't make it to the final show.  What I'd do right now for a capture card in my laptop and a sly cable into the live video feed.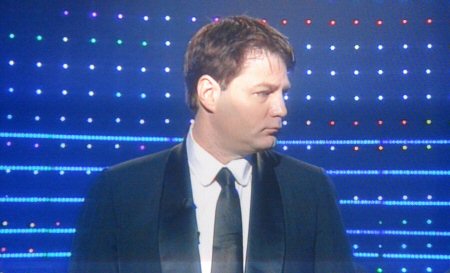 Earlier, May introduced Phil Hellmuth as "eleven time WSOP champion" and the pair recorded a punditry piece about the upcoming game.
We don't get to hear what is happening on the other end of May's earpiece, but clearly the Powers That Be weren't quite happy with it, so they had to go again.
But first, Hellmuth had a request.  "If you're going to say 'eleven', say 'record' baby.  I worked hard for that record".  Who on earth is powerful enough to argue with that?
They began again.  "I am joined this evening by … err … record … err".
It's the first time I've seen the Voice of Poker lost for words, but he quickly reaffirmed his legendary status.  He laughed it off for about half a second, put his game face back on and nailed it the second time.