If Les Dawson was still alive, completing the following might have won you a fabulous reading lamp or a candelabra.
"Welcome to the Four Queens.  We hope that you enjoy your… (blank)".
In case you're stuck, there's a visual clue.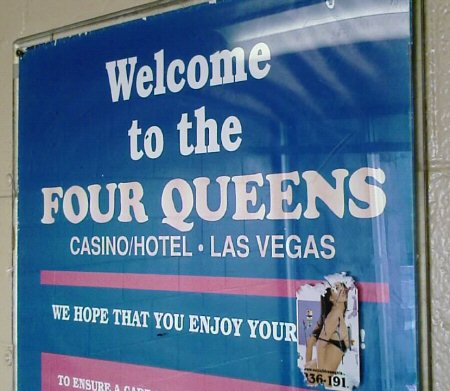 The biggest problem with moving around several hotels in one trip is the difference between check-out time at one (usually 11am) and check-in time at the next (usually 3pm or 4pm).  At Harrah's and Terrible's they'd let us check in and then leave the bags with the bell desk until the room was cleaned.  At Four Queens they just stamped "early check-in" on our registration forms and said that the room might not be ready yet (which it wasn't, and that was a bit weird) but at least we could dump our stuff there.
Although it was clear we were in an older part of the hotel than last time, the "recently remodelled" room was identical.  I could care less about the flat screen TV, but the coffee maker made mornings much easier.
I didn't end up spending a lot of time downtown.  I quickly realised that the morning poker tournaments at Binions, which I expected – along with Krispy Kreme from The Fitz – to be a great start to the day, had been murdered.  The price has come down from $70 to $52 in the morning for a 3000 chip game with 15 minute levels.  Compared to how it used to be, it's a slightly faster clock (4 levels for the price of 3) and they removed the single $40 rebuy.  I usually take the rebuy option as soon as another player at the table doubles up in those structures.
The evening game has a pretty good format now – 6,000 chips and 30 minute levels.  However, playing it after a late one the night before was a mistake and I could barely hold my head up off the table after a couple of hours.  The "no jitters – no crash – as seen on TV" energy spray I'd come prepared with just wasn't working like it should.  Looking for any opportunity to double up (and hopefully energise myself) or go to bed I check-raised all in with a flush draw and gutshot straight draw and got caled by king-queen for top pair.  My ace was live too, but I missed everything and went to get some zeds.
A couple of dealers had said that the revamped tournament schedule was been bringing in more players to Binions, but it's nowhere close to the three-figure fields they were getting a couple of years ago.  The 10am game I played in had 34 runners, and the 8pm game had 44.
There's some other changes afoot now that Four Queens management have taken over Binions and hopefully they'll get this casino back on track soon.  Most noticable was the removal of the Binion Dollar Babes stage, which they had already started to replace with more table games.  Kudos for not just wheeling in another bank of Wheel of Fortune machines, at least.
The Four Queens got enough video poker action from us (mostly from Claire, although her hot streak had come to an end) to ensure we would get invited us back.  Their best machines are 99.5% payback, but with 0.3% cash back it's almost a break-even game.  Looks like we cycled through about $15k over four days for a theoretical loss of $75, but with $45 cash back and a bonus $40 free slot play from a mailer, they still ended up paying us to stay there!
The very best part though was the totally free "jeweled rat" gift for a belated Chinese New Year.  It's almost impossible to say no to free shit, especially when you can't see it beforehand.  So what the hell are we going to do with this?