Audio clip: Adobe Flash Player (version 9 or above) is required to play this audio clip. Download the latest version here. You also need to have JavaScript enabled in your browser.
The music clip above is the actual jackpot tune from the royal flush Claire hit today at Terrible's for $2,000.
There is no sweeter sound you can hear in a casino.
WOOHOO! Two grand baby!
The music is about a two-minute loop, and we got to hear it several times as it took a while to get paid, but in the end everything went smoothly.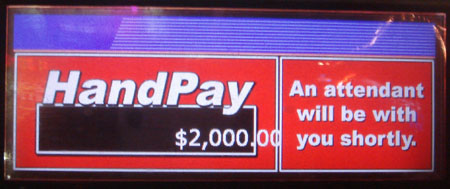 As Claire has never hit anything large enough to trigger tax paperwork before we weren't sure what would happen. As I understand it, any machine win of $1,200 or more has to be reported to the IRS.
US citizens are expected to declare gambling winnings on their tax return (or be able to prove a net loss from gambling for the year).
Foreigners, by default, are deducted 30% unless they come from a country that has a tax treaty with the USA. Fortunately, the UK does but I still thought it probably wouldn't be so straightforward.
I already have an individual taxpayer identification number (ITIN) which I had to give when I hit a jackpot last year so I asked if we could put the payout in my name, but they insisted it had to be whoever was playing the machine at the time.
Not only was Claire's players card in the machine, but I'm led to believe that casinos also have one or two cameras around the place, and that they take a special interest in players who win money, so it wasn't worth messing about.
I've seen in poker tournaments (where the threshold for reporting wins is a ridiculously low $600) that overseas players have completed the ITIN application on the spot and received the full amount straight immediately.
I've also heard of players getting stiffed because the casino didn't know what to do with the paperwork (or couldn't be bothered to work it out) so they just kept the 30% and left it for the individual to work out how to get it back. If they didn't pursue a claim, whether or not that 30% went to the government or to the casino's stockholders is anybody's guess.
To be honest, I don't know how Terrible's processed this one, it was all done off in a back room somewhere while we waited by the machine, bopping to the funky jackpot tune.
After about 20 minutes, a team of three slot attendants turned up with a wad of cash and handed Claire a "Foreign Person's Income Subject to Withholding" form along with two grand in crispy notes.
The form said income: $2000, deductions: $0.
And, obviously, we didn't question that 🙂