Terrible's casino looks set to be the place where I'll be putting in most of my video poker action for the next few weeks.
There's never just one promotion at Terrible's, there's usually dozens and understanding exactly what you're entitled to is part of the fun.
I've long been a fan of their "gas days" (currently every day except Thursday and Sunday) when you can claim a $5 Chevron gift card for every 1,000 slot points earned – up to $25 per day.
With the huge gas-guzzling Toyota Rav 4 (which I'm sure is almost double the size of a Rav 4 in Europe) we rented set to make some significant journeys as well as ferrying us around town for the next month, money to spend on fuel is as good as cash in the bank.
What makes this a great promotion is that you don't have to redeem the points to get the gas cards, you can still use the same points for free slot play or spend them in the restaurants or gift shop.
To get 1,000 points you need to play $1,000 through a machine, which means a theoretical cost of about $5 on Jacks or Better video poker (99.54% payback). The $5 value of the gas card therefore offsets the house edge of the game and the slot club points are all gravy.
The 1,000 points you accumulate are worth between $2.50 and $5, depending on what you spend them on. At the gift shop – the easiest way to burn points on booze, soft drinks, cigarettes, coffee, donuts and sometimes even socks (although sadly none as yet this time around) – it's 300 points per dollar. You get a better rate at the buffet, or a slightly worse rate if you exchange points for more gift cards or gambling money.
It takes me about half an hour to cycle $1,000 on a 50c video poker machine (the highest denomination they have with the "9/6" pay table that's needed for this to work) so assuming the 300 points per $1 rate, that's normally a theoretical hourly rate of about $6.
Certainly not good enough to "go pro" for, but it's not bad at all for a promotion that takes place five days out of every week. If there's nowhere else worth playing, there's usually Terrible's.
So you can probably imagine how excited I was when I read that Tuesdays and Thursdays were 5x points days – including (unusually) video poker as well as slots.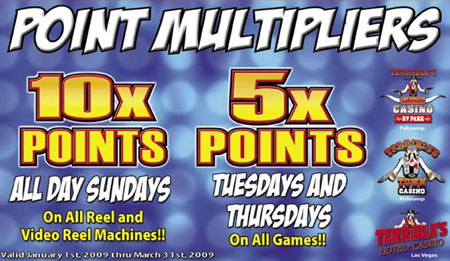 I really didn't expect the best video poker games to be included in the promotion, but I could only find signs indicating one particular game that was excluded, and that one wasn't even as good as the one I'd been playing (Double Bonus, at 99.1% payback).
A couple of spins on the Jacks or Better game confirmed that they were indeed multiplying my points by five, so I made myself comfortable.
The point multiplier doesn't award the gas cards any quicker (only "base points" count towards that) but the value it adds to the game is phenomenal. It turns the 0.33% of money back from the slot club into 1.66% back.
Whenever you can get a full 1% back in any form – cash back, free play or comps – it's worth taking notice of.
Looking at it another way, for the first $5,000 you play the gas card still offsets the house edge but you also earn a whopping 25,000 points on top. That's worth $83.33 at the gift shop or $62.50 in gift cards or free slot play.
Pretty good for about two and a half hours work – it's a rate of about $33/hr.
Beyond $5,000 played, it's still a great deal (which means it's also a great deal on Thursdays too, when it's not a gas day, but you can still get 5x points and probably a free pack of beer or something too). The point multiplier alone turns the 99.5% game into a 101% game.
Sure, it's still a bit of a grind and I'm not going to come home from Las Vegas a millionaire because of it, but it's an enjoyable way to earn food and beer.
And besides, if I spent every day chasing Megabucks for 5 weeks, I think the chances of going broke before the end of the trip would be pretty high…