It's not really any surprise that it's hot in the middle of the desert in the summer.
Until a spate of storms cooled things down, Las Vegas was set to trigger an excessive heat warning with temperatures forecast up to 112 degrees Fahrenheit.
Quite how they decide where to draw the line between "you'll just sizzle a bit if you go outside" and "you'll probably die if you go outside" I don't know. But apparently 112 F is that line in the summer, the point where it suddenly becomes unsafe to spend too long outdoors – even though it's not much higher than the average 106 F in July.
To be fair, it's felt quite warm lately. Relative to the usual scorching heat, I mean. This is my 5th summer here and, mostly, I'm used to it and know how to cope.
Wear a hat, drink lots of water, don't assume those massive casinos are as close together as they look. That kind of stuff.
And then, we went to Laughlin. My dashboard says it was pretty hot there.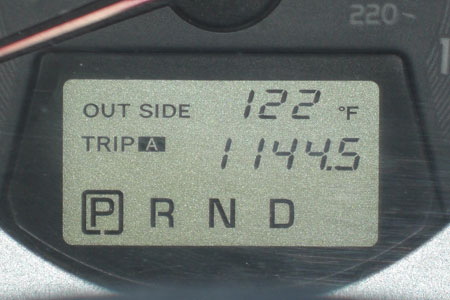 I haven't quite pinpointed my precise tolerance to desert heat, but 122 F is on the wrong side of it. It was absolutely horrible. Even on a short walk from car to casino, or back again, it felt like every drop of moisture in my system was instantly sucked away.
Because sweat was evaporating faster than I could produce it, my body basically turned into one big water pump, which ran dry in a matter of seconds.
Thank God for air conditioning.
The original plan to go jet-skiing on the Colorado River went out the window, and we stuck to indoor activities. Like earning a free lunch.
The River Palms casino usually has a decent free grub offer. This time it was a free burger or chicken sandwich if you earned 100 slot points – equal to $1000 cycled on video poker.
It used to be possible to get fed for free while also playing a positive expectation game, but sadly those machines have now been converted to tournament machines. However, the next best thing was still pretty good: 99.7% Deuces Wild.
This game only exists there as "Spin Poker' which is a strange beast. You play video poker but the cards are dealt onto slot machine reels so you are paid out based on winning hands along a gazillion different pay lines.
The 0.3% house edge on $1000 gambled is $3, but that same 100 slot points also earned me about two dollars in cashback and another dollar in comp.
Not that I wouldn't pay $3 for the burger below, it just tastes that little bit sweeter when it's totally free.