For those interested in how to travel to the USA and still manage to feed a healthy iPhone addiction without racking up massive data roaming charges, here's how I did it.  YMMV, and various other disclaimers.
The answer lies with T-Mobile, not AT&T.  While AT&T still have exclusivity on the iPhone, they don't offer any kind of service plan that is suitable for a visitor.  T-Mobile, on the other hand, has FlexPay – where you can pay for each month of service in advance, with no minimum commitment.
For 500 voice minutes, 500 text messages and unlimited "smartphone" data, the cost is $59.95 (+ local sales tax).
I've read some reports that you don't need to admit that it's a smartphone and the web access still works, saving you some money.  But this time I wanted to make sure there wouldn't be any problems and was up front about wanting to use an iPhone work, so I can't vouch for that.
It's not cheap for a 10-day trip, but at least it keeps the costs under control and still comes in at less than the cost of a 50Mb data roaming bundle (£50 with O2) or about 7Mb otherwise (at a horrendous £8/Mb).  My thinking was that I'd probably top up $10 on my prepaid phone for texts and pay $10/day for hotel internet anyway.  That's just to check my email, do random browsing and for blogging – nothing I couldn't do on a handheld gizmo really.  The added bonus of being able to instantly brag about my jackpots on Facebook, or to say "where's the nearest cinema and what's on?" was pretty sweet.
Here's the amazing thing: T-Mobile don't (can't) sell the iPhone.  But they already have enough of a customer base that it's very well supported.  When I called to ask for the network settings, they put me through to the "unsupported handsets helpdesk" – which surely should not exist! – and got me up and running in no time at all.
T-Mobile certainly appreciated my supreme loyalty too.  When I got home and needed to make sure I wasn't signed up to a recurring payment (I wasn't) they thanked me for being a customer for almost two weeks.  Sarcasm?  I'd be surprised.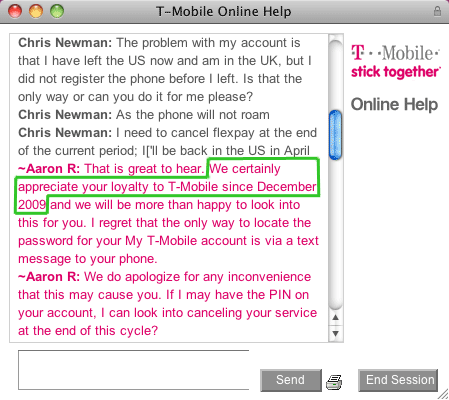 Anyway, here's how I went about it:
I got my iPhone unlocked in advance the legitimate way – by asking O2.  I'd only had the phone a month, but that doesn't matter any more.  They'll unlock any contract iPhone for free and any pay-as-you-go for fifteen quid as long as you've had it at least a year.  (Other unlocking methods are available).
I checked what would happen when I put a US SIM card in it, using my basic T-Mobile pre-paid account.  The phone froze up and demanded it be connected to iTunes immediately to activate the new SIM and I obliged.
I expected that I would have to do the same thing again when I got a new SIM, so I prepared for this by loading just enough of my iTunes library onto my laptop to get by.  That is: iTunes Library.itl and the folder iTunes Media/Mobile Applications.  I couldn't find a way to stop it wiping my apps if they weren't present on the computer, but the music and video files don't have to be there.  As long as the iTunes library on your computer looks the same as it does on your iPhone, there's nothing to sync so it won't bother trying to transfer any files.
I tested this several times before leaving the country as I couldn't take my whole iTunes library with me (my laptop is a few years old and it didn't have enough free space).  I also decided to uncheck "automatically sync when this iPhone is connected" and to turn on "manually manage music and videos" as an extra precaution.  This is actually the only reason I took a laptop with me this time.
In fact, once I got the new SIM card, I didn't need to activate it. That's probably because the phone had already seen another T-Mobile SIM, rather that it being a one-time only step so don't bank on getting an easy ride if you try this.  If you switch the SIM and can't hook up to iTunes, you might end up locking your iPhone until you get home  – or having to sneakily sync it with a random iTunes library at an Apple Store to bring it back to life (but wiping your music library and apps in the process).
But getting hold of the magic SIM was ridiculously easy.  I went into a T-Mobile store, said "I've got an unlocked iPhone, can I get a prepaid SIM card that will work in it?" and it was as easy as that.  No problems with being foreign or anything, they just swiped a credit card and I was on my way.
To configure the internet was pretty easy.  I should have printed this off in advance but it was easy enough getting instructions over the phone.  For future reference:
Go to Settings -> General -> Network, set Data Roaming on and 3G off (if you have an iPhone 3G; T-Mobile's 3G frequency is different, unfortunately).  Under Cellular Data Network, set APN to internet2.voicestream.com That's it.  You don't even need to note down the old settings for later, as it will remember the right values for whichever SIM is inserted.
One mistake I made was not registering on the T-Mobile web site before I left.  You can only get a password to manage your account online via text message, and you can't get international roaming – except for Canada and Mexico.
But as you can see from the online chat above, I managed to make sure the account was cancelled once I got home, and they said I can also use chat to get it reactivated before I go back next time.  The account remains dormant for 60 days (they say; I've read reports of it being much longer) before you lose the phone number.
This works out just right for when I go back to Las Vegas at the beginning of April 🙂