Yesterday, quite randomly, I found myself at the London Affiliate Conference.
You'd never know from the modest name, but this event is an expo specifically for affiliates of online gambling sites.
You know what?  Other affiliate programs are available.
I wasn't there for a conference, or as an affiliate – just for a meeting with someone who happened to be in the country because of it.
All the big names were there, which meant I was happy enough wandering around and gawping for a while.  These things are usually pretty fun for about twenty minutes, after which they get really annoying.  Fortunately I didn't have to wait too long before my meeting.
I wandered round admiring the usual collection of free giveaway tat.  Plenty of pens, t-shirts, calendars… that kind of stuff.  The chocolate dice were particularly appealing, although I couldn't help wondering whether the stand giving away branded cigarette lighters was exhibiting in the wrong decade.
And then I noticed this.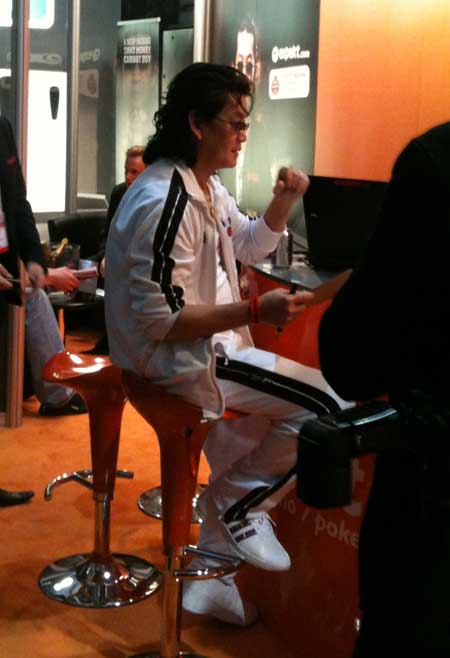 Scotty Nguyen, baby.
There are not many well known poker players that I would stop walking to take a photo of, but Scotty is the man, baby.
But wait, round the corner there was more:
At first I thought this was a looky likey… any dude in a hat could be pretty convincing.  But it is your actual Texas Dolly, Doyle Brunson.
The godfather of poker, making a personal appearance because his online poker room has gone down the pan and they're pushing a casino instead.
Quite a star studded line up for an event that I still haven't really worked out why it exists.
After all, when your online business does online marketing for an online casino, what is the actual benefit of getting some face time – except to be able to pick up the odd Blue Square stress ball, or something.
You just make a web site that links to another web site and get people to read it, right?  And if banner A makes you more money than banner B, you run banner A.  You don't run banner B because a pretty girl who was employed by them – probably just for the day – gave you a free umbrella.
It was only after I heard that one of the people I'd gone to meet – a gaming writer who relies on affiliate commissions to eat – had already interviewed Brunson that it dawned upon me: I was probably the only blogger there who had to sneak around with a camera phone to get pictures of these guys.
But along with that realisation came a reminder that I don't write this rubbish for anyone other than myself.  That's pretty obvious from the fact I haven't even bothered trying to put a banner ad on the site in three years.  But I've come to realise what a world of difference there is between writing for fun versus writing for a living.
Not that there's anything wrong with that (I've been paid to write before – albeit on a small scale, meaning I had plenty of freedom to choose the subject – and would do so again if the right gig came along) but it's not what this blog is and I quite like it that way.
So to those of you that do actually bother to read this now and again and humour me when I talk crap or rant about things that aren't really that important, I thank you.