I've been saying for months that I had more free hotels rooms than I could use during my trip to Las Vegas this summer. Between us, Claire and I have already booked 24 unnecessary nights.
You know – just in case we want to use their pool, or we run out of soap.
Then today (T-12!) another batch of post arrived with even more of them.
First up, it's an old favourite: Casino Royale.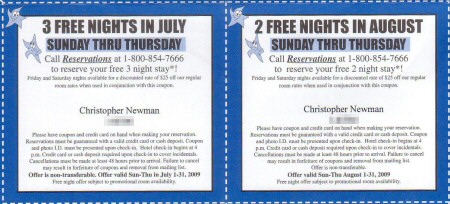 It's not the greatest hotel on the Strip, but what their rooms lack in electric curtains and decorative pillows is made up for by the guarantee of a coffee machine and a fridge. For me, that goes quite a long way.
Claire and I both got this offer, and although we won't use it this time, it's always useful to know that we still have either 4-6 free nights every month in the bag for when we need it. Casino Royale lets two players combine their comps into a single stay too, which is great.
Next, I got this one from the Fremont casino.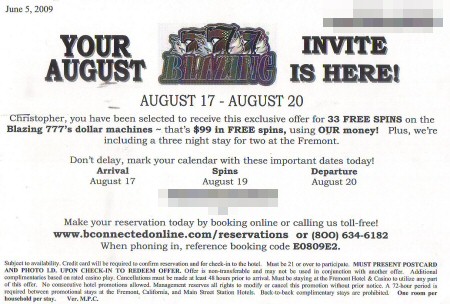 This is a no-brainer. I don't care about the room particularly. I probably won't use it. If they still have Pick'em Poker (99.9% payback before slot club perks) I'll be giving them some more action to hopefully keep the room offers coming, but it's worth turning up for the free slot play alone.
Which brings me to Laughlin. Harrah's Laughlin are still sending me so many great "just for turning up" offers that I am having trouble choosing between them. In addition to the $85 cash and $50 food credit I wrote about last month, I can now take another $85 cash (but no food, sadly) on a choice of dates in August.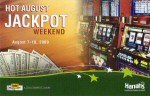 Then there's a slot tournament August 7th-9th which includes $100 in free slot play as well as the tournament entry, and a 5x Total Reward Credits multiplier for the entire weekend. That improves the value of their slot club from a paltry 0.1% to a very reasonable 0.5%.
That would be enough to make it absolutely (theoretically) free to retain my Diamond card if I could play it all through on 50-line Jacks or Better at 99.5% payback, but apparently those machines – the ones I hit ten grand on last year – have been downgraded to 97.3% payback.
There are 3 machines left in the casino that would be playable on this offer ("not so ugly" deuces wild – paying 99.7% before perks) but they are $1 single-line machines; so not only would I have a dog-fight on my hands if I wanted to sit down among all the pros wanting to grind their 0.2% edge, it would also take virtually all weekend to pump the required $100,000 through this game, even at $5 per spin. I figure it would take 25-30 hours of play – and that's if I knew how to play that game quickly. I don't.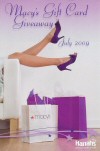 In a similar vein, on selected dates in July I could take part in the Macy's Gift Card promotion. As well the promise of a $100 gift card to get you through the door, they're sweetening this one with tickets to a comedy show. In addition, every 250 RCs gets you another $25 gift card.
The value of that is a full 1%, which is enough to turn their 99.1% Double Bonus Poker into a winner – and there are plenty of those games around. Of course, I then have to find something I want to buy from Macy's to make it worthwhile.
Also at Harrah's Laughlin, if I stay for 3 nights July 24th-27th I can walk away with a lovely plain white t-shirt with a printed Harrah's logo on the breast, after I take them for $50 in slot play. This one's not quite so attractive, but you just can't grumble at a free $50.
The problem (and, let's face it, it's not the worst problem I've ever had to deal with) is that I want maximum value without having to spend the majority of my trip in Laughlin. I like the place, don't get me wrong, but Vegas kicks its ass. I'll definitely stay there at least once, but for the other offers I have to weigh up the cost of getting there against the value of the freebies.
It's about 90 miles each way, and it may be two trips per offer if I don't want to stay three days every time, which pretty much negates all that free money. However, I suspect they'll screw you if you check out early, as they're giving you the free room to keep you hanging around their casino for three days. They charge $50 if you don't cancel a free room more than 72 hours in advance, but whether you can check-in, take the free stuff and check out straight away, I don't know. Yet…