Never mind spending a hundred dollars or more on a ticket to see Circque du Soleil or Bette Midler, there are still some great entertainment deals to be had in Vegas
Check this out: fifteen bucks to see The Donnas at the Hard Rock!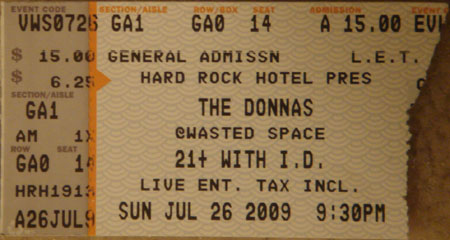 Sure, with Ticketbastard fees it's more like $50 for a pair, but what can you do? Still an absolute bargai, and not to mention one of the greatest bands in the world.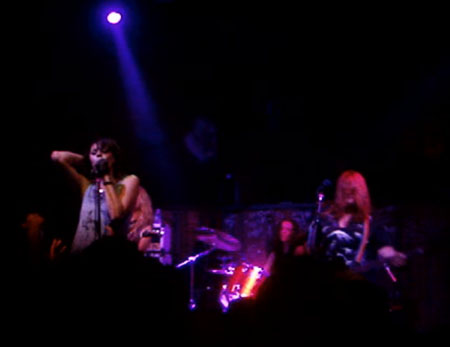 I'd hoped to be able to catch a show at the new Joint at the Hard Rock but there wasn't much that appealed this time around. At a push there's No Doubt in a couple of weeks, but with tickets starting at $121 I was just too meh about it. That's more than the Spice Girls, and there's no comparison.
The Donnas played in the rock club venue, Wasted Space, which is a much more intimate affair. It's tiny – supposedly a 400-500 capacity venue but with the stage area separated from the bar last night there can't have been more than 200 there.
The picture above is poor (my small camera appears to be on its last legs as it started doing some mad shaking instead of focusing properly, it's about the best I could do) but it shows how close I was, with just a couple of fists in the air in front of me – and I was virtually standing at the back.