I still can't get over just how recklessly Harrah's have been giving away free hotel rooms, but I'm not complaining.
As our reservation at the Rio was booked in Claire's name and she's literally only gambled about $20 on her players card since she had it, there was no offer an awesome Strip view to go with our free room this time.
It's still a suite – all the rooms at the Rio are – but we're looking down onto Flamingo Road. It isn't so bad though, it's a great view of Palms and Gold Coast.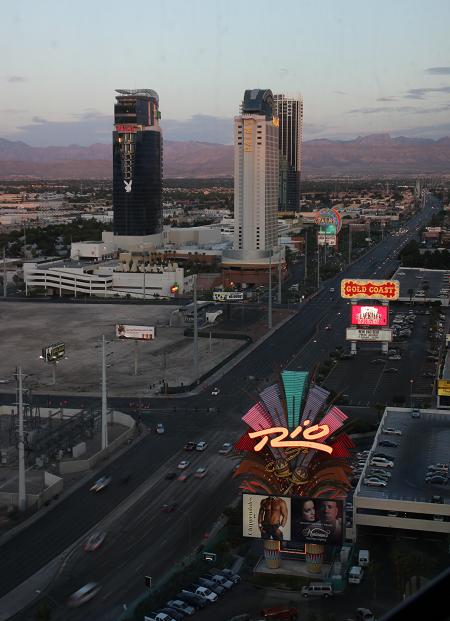 Although we have this room until Thursday when we can get the keys to our rented house, we also had to check in to two more hotels today – just for the extra free goodies we'd get for accepting their offer.
Gold Coast is right next door so we didn't even need to drive over there to check in and get the free stuff. They'd offered Claire $20 per day dining credit and $10 per day free slot play if she stayed two nights for free.
The room was newly remodelled and quite nice.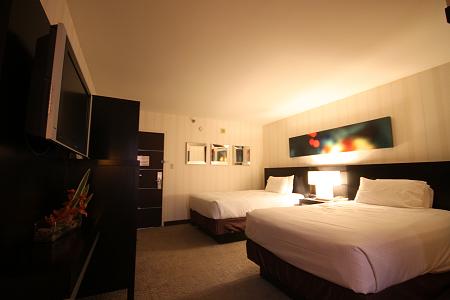 This is the first hotel for quite a while where I've been hit by the dreaded "resort fee" stealth tax. It's only $3 per night – just about the lowest one I've heard of and a far cry from the $20+ per night at Station Casinos properties – but the list of amenities that the fee is said to cover is ridiculous.
Apparently this is what it pays for:
– Parking (which is free for anyone, including non-hotel guests)
– Shuttle buses to the Strip and The Orleans (which are free for anyone)
– Local phone calls (which are free)
– Toll free phone calls (I think they are missing the point)
– Incoming and outgoing fax service (I didn't try it, but I just know there'll be a charge per page)
– Coffee maker in your room (which would be a feature of the room, not the resort, surely?)
– Access to the fitness center
I checked to see whether there was an additional charge if you actually used the fitness center and there is not, so at least there is one genuine resort feature included. Basically this dumb fee works out to be nothing more than a compulsory gym membership to eek out a few extra quid from guests – even those who have been invited to stay for free.
After taking a few bottles of shampoo and messing up the beds so it wasn't obvious we hadn't stayed there, we moved on to the next target.
We actually decided to spend the night at Harrah's Laughlin, who gave me $85 in cash for showing up as promised. We only managed to use $30 out of our $50 of food credit there for dinner though. The Mexican restaurant closed at 9pm and we just missed it, so it had to be the cafe and I thought ordering myself a second pizza when I couldn't even finish the first one would be a little unnecessary.
We were delayed getting there a little by the closure of Hwy 95, which was apparently shut for 6 hours after a truck did a somersault in one of the storms we'd been seen looming around the edges of the valley during the day (although they didn't hit Las Vegas itself).
The desert skies were fairly clear by the time we set out but there were some monster puddles on the ground and the temperature dropped from the hundreds to a modest 80F along the highway. The radio kept being interrupted by end-of-the-world emergency broadcast alerts saying very little of specific use but constantly advising not to attempt to drive through water on the road.
"Turn around, don't drown", said the daunting message, repeatedly.
A single overhead notice sign warned "US-95 closed at Searchlight" but that was all. It didn't say why, how long for, or how to avoid it. I didn't really know what else to do, and wasn't even sure if there was a sensible detour (I was driving a 4×4, but I didn't actually want to use all four wheels) so we carried on in that direction.
As we approached Searchlight, there were dozens of trucks all parked on the shoulder and traffic started to slow down.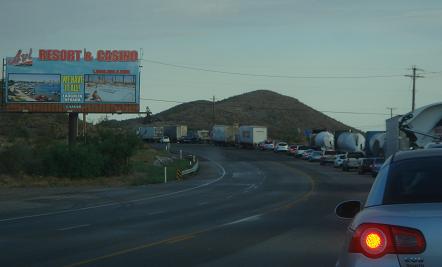 Amazingly our timing had been just about perfect. Just ahead, trucks started to pull back onto the road – they'd obviously heard something – and we crawled along until we passed a solitary highway patrol car with one officer beckoning traffic through.
Thankfully the route to Laughlin is usually plain sailing all the way. We have to return on Thursday morning to check out of the hotel room that we're no longer using!