A novelty side bet, that is.  A bracelet… nah, he still hasn't got one.
Thanks to some dodgy geezer streaming the ESPN pay-per-view coverage on a dodgy web site, I've been able to watch some of the Main Event final table live.  Although, I didn't exactly sit and watch it intently because it's just a little bit on the dull side.
Of particular dullness are the incomprehensibly long delays where the dealer dutifully freezes (I think he's also required to not breath) between dealing each round of cards when a player is all-in.  They must have to take a moment to drag in a few more cameras, as it's very important to make sure they can catch the reactions of all two players in the hand, get a fresh look at the prize money, and also see all five board cards as they sprint across almost half a yard of felt.  How on earth does the ESPN crew cope with NFL games?
When everyone's ready the announcer says, "Here comes the turn card".  Thanks for that.  These guys have been playing this tournament for eight out of the past 12 days.  Right now it's level 32 ($150,000/$300,000 blinds with a $40,000 ante) so that's about 64 hours, not counting breaks, in total so far.  They all know what comes after the flop by now, even if they didn't when they paid $10,000 to enter.
The live audience may not have been paying such close attention as the players the past fortnight, but they turned up to watch the World's Slowest Poker Game – it's not like there's nothing else to do in Vegas today – so they must have at least a passing interest in the game.  I'm pretty sure they know that the last card dealt is called the river.
The folks watching at home (some of them at least) paid $19.95 to have 16 hours of their life drained away, so they probably know a bit of the lingo too.  Even if they didn't, there's still Phil Gordon and A. N. Sidekick saying pretty much the same thing as the announcer at pretty much the same time.  And when it's shown to the masses on ESPN proper in August, there'll still be Norman Chad.  (I can't possibly even start to go there).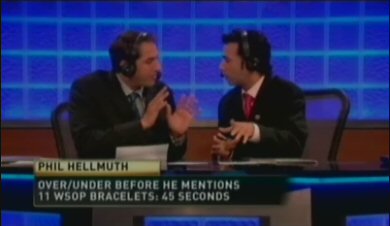 So back to the victory.  Phil Hellmuth was making his way to the commentary booth – which is actually a desk – and Gordon made a bet with Sidekick: how long before Hellmuth mentions his eleven bracelets?  The line was set at 45 seconds, and Gordon took the under.
Hellmuth was given a flattering introduction… and then…
36 seconds.  $100.  Ship it.