If you ever thought the chat box in an online poker game was inane, try online bingo.
Yes, I do have a very good reason for playing bingo.  There's a fantastic offer on quidco.com right now where you get £30 for registering a new player account and betting £10.  It told me I already had an account, so I had to do some jiggery pokery using my full name and a different email, but it tracked in Quidco immediately once I'd played through the £10.

I didn't win anything, but that's probably because I'm a bingo donkey.  I expect I was seeing too many tickets with weak balls.  I guess I also need to try to dab more aggressively with my good numbers.
However, the £20 overall profit from the bonus just about makes up for having to endure an unbearably cheesy online gaming experience.  My avatar was a cartoon dabber with a big grin – do I need to go into this any further?  It really hurts to think about it now.
Looking back at this screen full of chat is especially painful.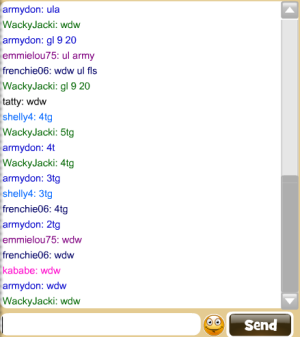 We've got the universally standard gl, wd and ul (good luck, well done and unlucky) making an appearance.  The tg suffix means to go, so many of these comments are players announcing how close they are to winning a prize – tactics designed to put fish like me on tilt for sure.  Makes you want to mark off a whole bunch of numbers much to hastily.
The one that took me a while to figure out was wdw.  It means well done winner – a fabulously impersonal way of fake-congratulating an opponent who just outplayed, outclassed and outdabbed you.  It's not like you don't know who won – it tells you their name and shows you their winning ticket!
It's like "well I know I didn't win, so I don't care who did" so I imagine wdw is said sarcastically just as often as nice hand is used in poker to actually mean nice suck out. 
As I didn't stick around very long, I will just have to pretend that this was a real bingo conversation:
wdw lucky fish u suck
nice miracle numbers
poor play rewarded again
so sick
It could be …