The last resort of a blogger with not much to say right now?  Pictures of his own feet.
Well actually I did already say I'd put up a picture of my socks to balance the nastiness of the last entry, but there'll be plenty more sock shots to come in the next couple of weeks as I riffle through my inventory of casino branded hosiery and work out which ones are past their prime and need to be replaced.
This pair from Caesars has clearly been in better shape.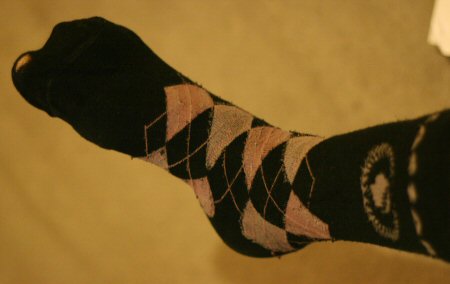 If you have never tried to take a photograph of your own foot, I suggest you try it.  Quite a challenge, as you can see from the poor quality of this picture.  You have to combine holding the camera steady, composing the shot with the foot at the right angle, removing foreign objects from view, getting good enough lighting and not falling over.  For someone of my limited coordination, it's quite impressive that managing to keep my balance was just about the only factor I succeeded at this time.
I will be practising.  But although it's something of an ambition to grab the top ranked search result on Google for "casino socks", I can't promise to personally model every sock I decide to feature here.  Sorry about that.