As a side effect of planning forward for my next trip to Las Vegas, I've actually found myself staring at a summary of my entire live poker career so far.
As I'd decided to start using the iPhone app Poker Journal to record all my sessions from now on, it made sense to try to import all my old data into the same application before I got started.
That way I'd already have some lovely graphs to look at.
Although it's not a documented feature of Poker Journal, it's possible to use the backup and restore facility to import data from another source.  In my case, I had a master spreadsheet that I'd built up over the past few years from all the mobile phone spreadsheets I'd been keeping on my travels.
To be honest, that spreadsheet didn't do much.  I'd set it to calculate a total profit/loss and done some (frankly) bodgetastic jiggery-pokery to give totals per trip and to add up limit hold'em and no-limit hold'em profit and loss separately.  With a bit of effort I managed to get a graph out of it once.
I'd been in contact with the developer, Michael Golden, who had already drafted a document that explained the data format he used and because my spreadsheet was so simple it wasn't too much of a problem to convert it.  If anyone is in a similar situation, the script I wrote to process my own data might be of some use to you.  Leave me a message.
So, what does this wonderful little app do?  Let's start with what matters – a graph, of course!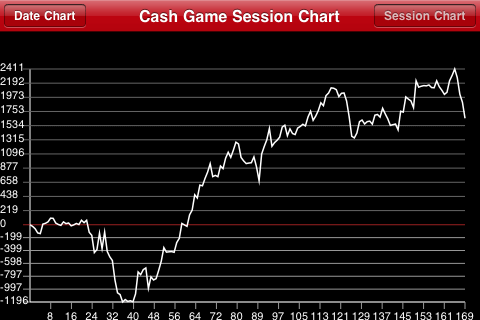 This is my cash game history for every session I've played in Las Vegas since 2006.  I was a relative latecomer to The Cash.  Thinking back, I probably I played a couple of sessions of $2/$4 in the summer of 2005 (my first month-long Vegas expedition, pre-blog) but not enough to make a difference.
I definitely didn't touch no-limit hold'em until Summer 2006, and even then it was only briefly, scared away after the first attempt by the nine rocks I found myself surrounded by at Sunset Station.  In retrospect, this was horrible game selection (based only upon which casino was close to where I was staying at the time) which probably set me back more than I realised.
You'll see from the graph that after the minimal variance of $2/$4 limit hold'em, it took me a little while to find my feet with no-limit, and I had a 6 buy-in downswing (I almost always buy in for $200) before the climb back started.
Poker Journal does a bit more than draw pretty graphs too.  There's plenty of fascinating statistics.  The ones below are filtered just for no-limit hold'em: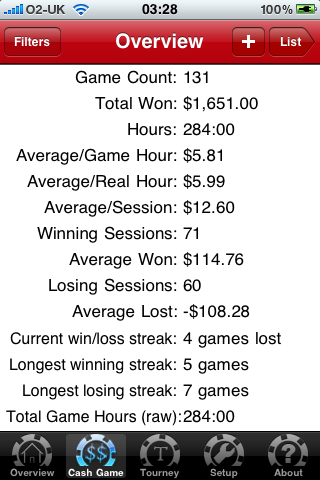 Hardly an hourly rate I can "go pro" with, but it's in the black at least.
If I switch to "glass half full mode" the 71-60 winning record isn't awful – and in reality, winning more sessions than you lose isn't even important.  What matters is winning more actual money the times you win than you lose the times you get sucked out on by some idiot douchebag who loves playing queen-three.
Not a bad beat story,  I just made up a garbage hand at random.  I promise.
With that 11 game differential, I managed to turn a profit of just over 8 buy-ins, which is a fairly reassuring way to look at it.
If only I could have "average luck", surely that number would go up, right? …
But is 284 hours enough to draw any reliable conclusions from?  No, not really.
My career graph currently ends on a bit of a downer – which reflects how my poker results went towards the end of the summer trip.  Suddenly, I just stopped being able to win pots.
Whether I ran particularly badly or if it's just variance, who knows.  Maybe I am a $6/hr player (or worse) and it was about time for this to happen.  I knew everything had turned to shit at the time and there wasn't much I could do except to keep turning up and hope to catch a break before I had to catch a plane.  I never did.
Boy am I ready for a re-match.  Three days to go… 🙂