Putting rude words as your name in the high score table on a pub quiz or "skill game" machine.
There should be a snappier name for this wholesome activity.  May I suggest "poo-tabling", derived from my very favourite – and almost always first choice – word to use?
It's short, simple, slightly rude, a little graphic (if you think about it for too long) and obviously not a real name – but hardly offensive, even pre-watershed.
Some machines are poo-friendly, some are not.  Yesterday the mix-and-muddle-the-fruit game that I can't even remember the name of didn't like like poo, which is a little unfair when a different game on the same machine already had a big cock.  Really.
At least it's clear to see that we are not alone in wanting to – nay, enjoying – testing the limits of a computer program's profanity filter.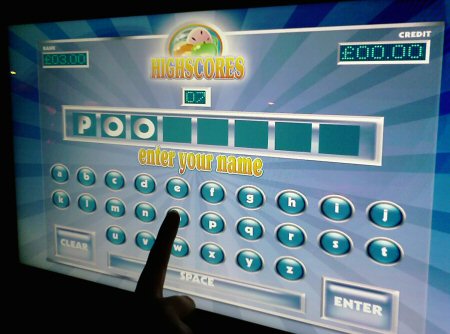 That's Claire's finger doing the honours.  This poo was a joint effort, and top score on the table won us a massive two quid, after an extremely courageous decision to gamble after hitting the £1 mark.  Even so, wanting our first choice of name to be immortalised for days, maybe even weeks, was too much to ask.