The Cheque Centre in Longton has been the best place to buy US Dollars lately, and I've used it a few times to change up money ready for tomorrow's trip.  Today their rate was a very attractive – and very precise – $2.0000000.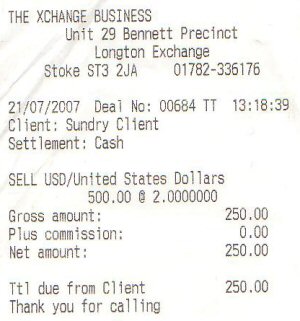 This is a business that sprung up quite recently in a town that few others dare to inhabit – even Kwik Save gave up hope last month and bailed out.  Its No Frills boots have been filled by a brand new B&M store.  If I had to describe what kind of store B&M is, the best I could come up with is "cheap random crap".
In fact, those same three words could also be used to identify Longton town itself.  Perhaps a new motto for the precinct: Cheap. Random. Crap.
The Cheque Centre's place is all nice and new, with both new paint and new carpets.  Quite unusual for the locailty.  So why go to this trouble, and still set your rates so much higher than the nearest competitor?  The second best on offer today was $1.96 at the Post Office, with the travel agents less than a full cent behind.
Today's perfect two rate got me thinking.  Maybe it just a case of "two dollars to the pound is close enough, right?".  This is a business that deals only in money, and always in cash.  Perhaps maximising profit isn't as important as getting the turnover.
Ever feel like you're supporting organised crime?