The write-up below is copied from an email newsletter I got today from Fitzgeralds, or The Fitz as they now like to call themselves since removing the giant leprechaun from the roof.  In fact I got to see the remains of "Mr O'Lucky" at the Neon Boneyard, but he's in a sorry state.  The victim of an internal bonfire (please donate to the Neon Museum and help them buy sharper barbed wire) he's been virtually destroyed from the inside out.  There's now just a wire mesh frame remaining, apart from one leg, the top of his head and a charred arm that's still tipping what's left of his hat.  I wish I could post a photo, but I'm not allowed to publish them online.  Ask me to show you sometime if you're interested.
In case you don't know what I'm talking about, this is what it used to look like.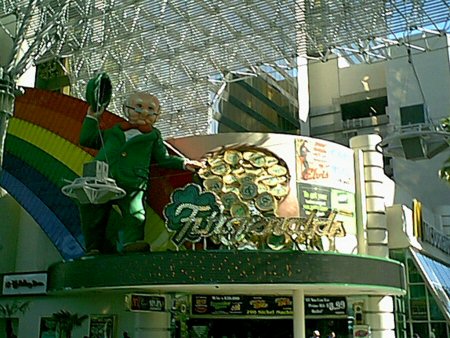 Anyway, I copied the text verbatim, right up to the point where I decided I really didn't need to read any further.  It's about an upcoming event in Las Vegas that I'd not heard of before.  Sure, it's only just into its second year, but it sounds like a winner.
It won't take you the famous 90 days to go 'round the world in September. Instead, how about one weekend? On September 14-16, you'll have the opportunity the celebrate many world-wide cultures at the 2nd Annual Las Vegas Culturefest, where the entire family can enjoy a fun-filled weekend of food, crafts, dance, arts and entertainment at the Fremont Street Experience. Special features include the Golf Cart Parade of Nations […]
Las Vegas just keeps on coming up with new and imaginative ways to get folks off the street and into the nearest casino.  They're just so damn good at it.