Well it seems like a lifetime ago now, but I still have a little unfinished business.  One final morning in Las Vegas to write about.
We stopped by the Palms for one last chance to swipe-and-win, and Claire and I both won $5 gas cards – result!  Then we just had to put a last $20 through video poker.  Loose Deuces Wild was to be the lucky beneficiary, but while I was wrestling with a mangled old $20 bill that got stuck in my machine, this happened: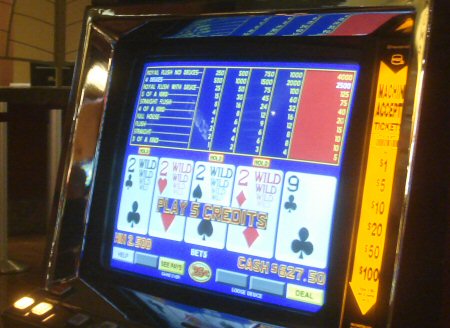 "I always hit deuces on the last morning", Claire reminded me as her $625 was clocking up.  That's not quite true, but it's close.  Three times now, we figured.  The first time was at the Stratosphere (boo), also on a Loose Deuces machine – a $625 going home present, plus an invitation to a "winners only" slot tournament including a weekend's free stay a few weeks later.  We couldn't use it so it went in the bin, but we later found that you can sell those invitations on ebay.  We actually bought one for another trip and used it to stay at Harrah's for a very good price.  This was only about five years ago, but I'm pretty sure that back then Harrah's only owned two casinos in Las Vegas.  Oh fond memories.
The other last minute jackpot was at the airport.  That was a regular four deuces payout of $250, but it was paid in quarters and their bent coin counter had a special "sucker about to miss a flight" mode, so it only registered as about $210.  We'd had to wait while they radioed over to the other side of the terminal for someone to bring over the only handheld counting machine in the airport, and I'd already had to go ask at the boarding gate "please don't leave without us".  I'm still not sure if it was all one big set up, but there was no time to argue and they knew it.  We've never played at the airport since.
So with that final piece of good fortune, all the winning was done and the summer was over.  The last photo I took is the last thing you see before entering the airport.  It may as well say "it's probably grim where you're going".