Thanks to the boffins at Party Poker, you can now watch episodes of the first series of Late Night Poker Ace – among all kinds of other stuff – at any time over the web.
I can now relive the excitement of my road trip to fabulous Cardiff two years ago anytime.  I actually met Jesse May, dontchaknow.
If you'd care to share in the drama – and if you're one of the lucky few that I haven't ever tried to feed a DVD copy of the show – go to www.partypoker.tv and click "Watch PartyPoker TV Now" to open the player.  It's under "Archive", then "Late Night Poker Ace", then Episode 3.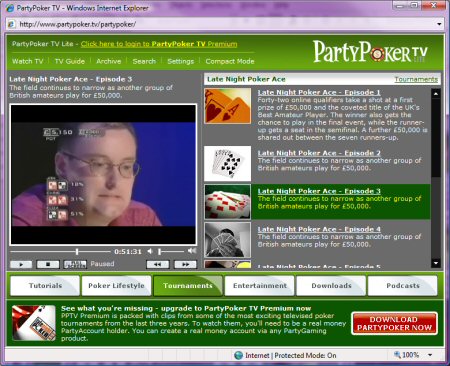 It's quite possible that it's been there for ages and I haven't been paying attention.  However it looks like this new source of streaming poker TV is meant to coincide with the new qualification period for Late Night Poker.  The route into the $320 satellite is via a $35 turbo crapshoot, which itself has turbo sub-qualifiers that cost a massive $0.80.
With rebuys available for the first hour, some of those first round gamboolies may last as long as an hour and fifteen minutes.  It's a game of skill, obviously.