Doner kebab meat must be a gormet delicacy to have made it all the way to Las Vegas.  You can find it at the Palms buffet.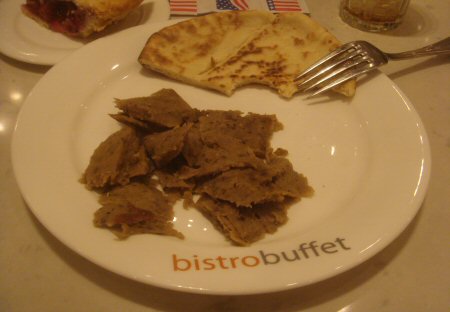 I do apologise for taking a bite out of my pitta before taking the photo.  I must have been hungry.
If you expected me to pay for this buffet, you've not been paying attention 🙂  Palms has turned out to be one of the best deals for video poker in town.  With several different types of positive expectation machines you sometimes have to fight for a seat, and there are clearly professionals in the place.  You can spot them by the way they slap the buttons really quickly.  That highly tuned flappy action ensures they get to play the maximum number of hands possible.
It's so important to make sure you push that edge as much as you physically can by playing lots of hands.  A 400 hands per hour player might stand to win $3.80/hr on full pay Deuces Wild (that's 100.76% payback with perfect play) but crank your speed up to turbo and you could be earning as much as a theoretical $5.70/hr for 600 hands.
The full pay Deuces Wild machines also have a progressive jackpot, adding a little more value to the game.  Once this is over $1100 (the normal Royal Flush jackpot is $1000) everyone seems to go mental, and it's even more difficult than usual to find a seat.  That extra hundy adds less than 0.2% to the expected return.  Sure, it's worth having, but it's not much more than another dollar per hour.
The slot club is what ultimately makes it all almost worthwhile.  At $400 coin in per $1 in comp, it adds another 0.25% to the value of the game, and that's without any other point bonuses.  We have coupons for 3x points in the Pocketbook Of Values and have picked up 4x multipliers from their swipe-and-win promotions.  In fact, I also swiped and won a $25 gift card for Wal-Mart and $5 for 7-Eleven.  Everyone who turns up for those promos wins something, even it's it's tat.  Claire got a nasty keepsake box and an almost worthless notebook and pen.  The draw is most likely rigged, or at least biased – all our play has been on my account, and only I got the decent prizes.
Using the best multplier and with a decent progressive jackpot up for grabs, a savvy player could earn a theoretical rate of nearly $15/hr in cash and comp.  Points have to be spent on comp – there's no cashback – but you can spend it on anything: food, movies or tatoos.
The Palms buffet is actually pretty average.  Obviously it's better than the raw functionality of Terribles for sure, and you cannot complain for a freebie, but it's certainly not as good as it seems to think it is.  The selection is actually quite limited.
The Wynn buffet on the other hand is top notch, and was yet another meal I didn't have to pay for!  No kebab meat here, but there was tandori chicken with poppadoms.  Good old fashioned English fare.
New slot club members receive $10 in free play for giving an email address, and get two free buffets when they earn 100 points.  You earn at a somewhat peculiar rate of $9 per point, but still that's just $900 of play for dinner for two.  There's a 99.5% jacks-or-better game if you can play $1 video poker, or slightly worse if you want to grind it out with quarters.  Either way, your expected loss is only a little more than the $10 free play, and if you use the buffet for dinner at the weekend it's worth a whopping $37.95 each person.  Apparently.
And people still stand in line for two hours to pay that at dinner time.  Eat free, and eat early!
I can take or leave the Wynn casino, and to be honest I'm sure it's no great loss to them if I take my limited play elsewhere.  The overall snootyness of the place makes this great promo a big and very pleasant surprise.  I was also pleased to see that their crockery came all the way from Stoke!  I always flip over the plates on the offchance – the funny shaped, almost triangular buffet plates are made by Steelite.
I do like their carpet very much, but that alone isn't enough to make me go back any time soon.