I was meant to write about Tom Jones today, but apparently he's poorly and has already cancelled three of the seven shows he's meant to be playing at MGM Grand this month.  Get well, Tom.
As well as a big sign telling everyone who was being let down that they would not be able to find out whether a 67 year old Welshman could still gyrate all by himself, they also needed three big security guys to keep guard to make sure nobody tried to enter the empty theater.  If it's really that important, don't they have locks on the doors?
So, refund duly collected, we tootled over to Excalibur and played $2/$4.  No big hands and no aces cracked, so we didn't get to spin the wheel, but it was a good fun game with beer flowing, and it was a nice change from the no-limit attitudes I keep having to play with.
Earlier in the year, Merlin was removed from the Excalibur's tower as part of their efforts to de-theme the resort.  Quite how this is ever really going to happen is something a mystery, given that the hotel looks like a huge fairytale castle, but they're trying.
In his place, there's now an advert for their new super-fun eatery, Dick's Last Resort: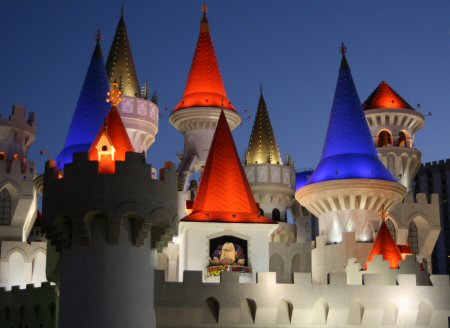 Extreme Close Up!!
Dick's schtick seems to be that the place is a mess on purpose and the staff are paid to disrespect you.  Customers are forced to wear makeshift paper hats, constructed by the waiters, which say clever stuff like "I suck".
Personally, I'd rather concentrate on all the eating, but I'm sure for many this is a great way to enjoy a cheeseburger.