Here's a little piece of Vegas to look forward to, coming soon to a McDonalds near you.
I don't really know what makes this a Vegas burger, let alone a classic.
If it's to be a Vegas burger, surely it has to be a "world's most somethingest" burger. 
Like the most expensive, the $777 Kobe Beef and Maine Lobster burger at Paris Las Vegas.  Actually I'm not sure whether that holds the record for most expensive, they may have missed out on that honour to maintain the novelty price tag.
But the Carl's Jr $6000 combo definitely is the world's most expensive fast food meal deal, and it's only available at the Palms.
So what about a spectacularly huge burger, like the 9lb Big Daddy Barrick Burger at the Plaza.  It's sadly no longer on the menu, but the web page that bragged that this beast could "feed a softball team" is archived for ever here.  The deal used to be that if you could finish it in under 24 hours, it was free (well, you weren't going to be leaving the casino, let's face it).  The world record is just over 48 minutes, and was set by a girl.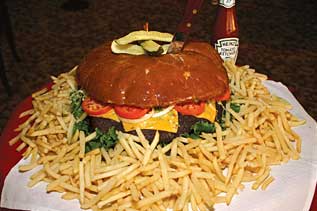 So thanks for the effort McDonalds, but I'm just not sure that simply using cheese that's a bit more fancy than usual is quite enough.