Mandalay Bay is the latest casino whose text message list I've subscribed to.
They don't make it particularly easy to fill your phone with their crap though. To begin, text "MBTODAY" to 37160. Then you have to confirm by replying with "MYES".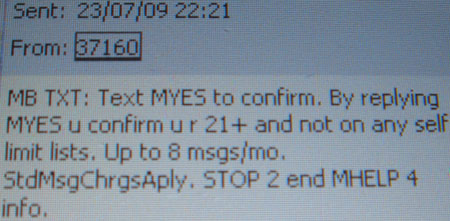 What's wrong with just a plain "yes" I don't know.
Fortunately I have a full keyboard on my phone, but I feel sorry for anyone trying to negotiate it using predictive text. You'd get something like "oatodaz" or "navofax" when trying to write the signup message.
But are these moffers worth mfighting with the technology mfor?
Not really. Here are what I've had so far – no special promotions, just a bunch of junk mail for stuff that's already going on.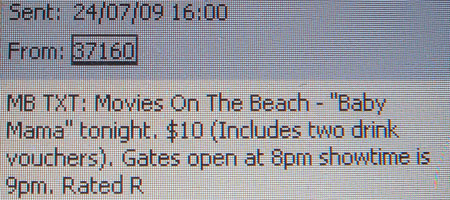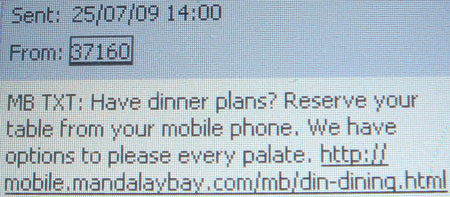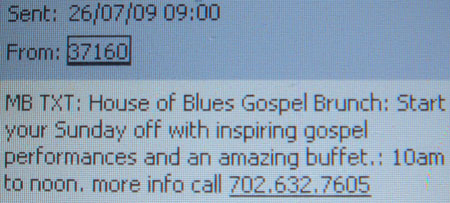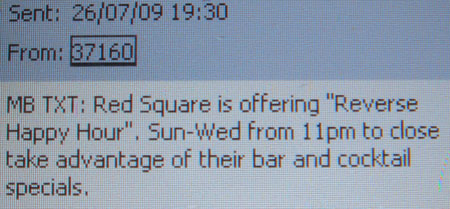 To compare, the Rio's text list sent out offers last week for buy-one-get-one-free on drinks, free desserts with your meal, $5 off their buffet and $10 tickets to see the Chippendales.
The latter was available to the first 50 people to respond and for that night's performance only. Although they could perhaps do themselves a favour by targetting these offers rather than sending out to the entire list, I can still recognise that this would be a great deal for someone who likes looking at naked men.