It's out with the old…
… and in with the new.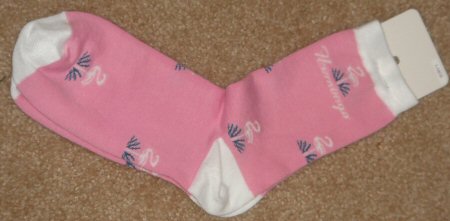 I'm actually throwing away some casino socks for the first time ever, and I'm finding it very difficult.  I'm still not even sure if the ones shown above from MGM Grand are replaceable.  I do know that some thread-bare socks I've been desparately clinging on to – particularly from Orleans, Boulder Station and Hard Rock – have been missing, presumed dead, from all known gift shops for several years.  But I know they can't all live forever, and I need to learn to let go.
If there's one thing that Harrah's might actually be good for, socks could just be it.  While they seem to be a dying breed everywhere else, I've had a pretty good haul so far from their casinos: 3 pairs from Caesars, 3 from Flamingo and 2 from Paris.  Bally's had a couple too, but exactly the same as the ones I got earlier in the year, which are so dull I've hardly worn them at all.
But is pink really my colour?  Baby girl pink with white birds on?  Those Flamingo socks are something else, but they're definitely a man's size and they're Vegas socks, so I just had to have them.  Whether they'll ever get worn is something only time will tell…
EDIT: The full supporting cast, so far: