This is pretty sweet – it's a mobile phone optimized version of the Harrah's web site:
I know everyone's doing it these days, but I hadn't seen this before. Harrah's web site has always been way ahead of the game for communicating with players and their mobile version is no exception.
The lightweight site has virtually everything you get on the full scale web site, except it doesn't bombard you with pictures of Bette Midler or adverts for the latest poolside debauchery. You can access to your Total Rewards account – including all your offers, and it lets you make reservations. Very nifty.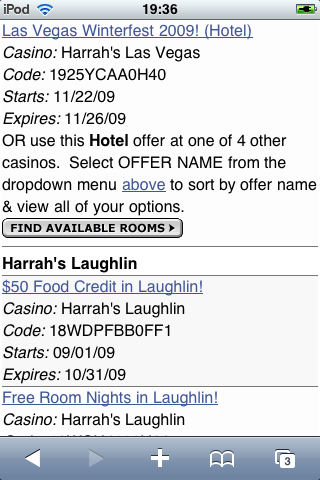 The site address is mobile.harrahs.com and I've bookmarked it already.
It actually took me a while to find the address for this even after I knew it existed. I only came across it through their iPhone app, iSpin, which is a Harrah's branded slot machine simulator. You can actually choose how you want it to look from 8 of their casino brands.
The game itself is OK I guess. Reels spin and you win or lose fake money. Of course it's rigged heavily in the favour of the player to make you think you're eternally lucky, so when it's a close call on whether or not to take out a third mortgage to go to Las Vegas with, you'll think back to some happy memories of pretending to gamble on your phone and decide that you can't possibly lose.
In fact this game lets you hold up to two of the three reels to increase your chance of winning. As there's a prize for just one cherry on the pay line, all you have to do is wait for that symbol and hold it indefinitely to get at least a 100% return on investment on every spin.
Needless to say, there's no actual casino slot machine that plays this way.
There's a few annoyances, like it plays irritating casino background noise which you can only turn off once you're into the game. So if you were already listening to something on the iPod, it stops when you launch the app. I hate that.
The thing crashed on me a couple of times already too, so it's not that stable. But it does a fine job at helping you to kill a few minutes, and I guess that's what it's there for. A free play slot game was always going to have a limited lifetime for me. I was really just curious as to what they were giving away and how they were using it for casino marketing.
It was the Total Rewards integration that really caught my eye though.
I thought that was interesting. A Total Rewards app for iPhone? Even if you have to access it through a slot machine game, it's still a pretty good idea.
Unfortunately, this is the extent of the information you can get from the app.
Then the orange links take you off to the mobile site on the web where we started, except that the site is irritatingly locked in landscape mode whether you like it or not – and you have to log in again. Forget that – just to skip the game and go straight to mobile.harrahs.com.
The only other thing of note about this app is that it asks for the iPhone's location at start up. This has absolutely nothing to do with the game or anything else in the app.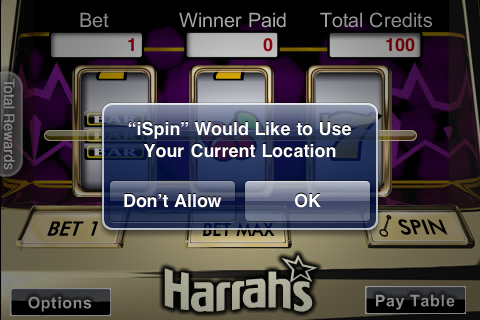 Big Brother at Harrah's is watching you. They not only want to know that you have downloaded and run their app, they also want to know where in the world you are.
They probably just snagged your phone number too.