It was obvious the Stardust's days were numbered a few years ago, when they were making a big deal out of its 45th anniversary.  It was never going to make it to the big five-oh.  As another legendary Las Vegas hotel shuts its doors today, I feel like I should be writing a little bit about what I remember about the place.
Unfortunately, that is very little.  The fact I have a players card (below) doesn't necessarily mean I played there.  I have a whole bunch of players cards from all kinds of casinos I've been to just once.  And why not?  I vaguely remember some cashback promotion at the Stardust for cycling your money through video poker that they never actually coughed the rebate on, and I'm pretty sure that was the only time we'd been there until this summer. 
In August the end was very much in sight, although nobody quite knew when.  Today's closing is ahead of schedule, because most of the staff have already moved on to new jobs and there was little point in keeping it open.  The gift shop sold merchandise bearing the dates 1958-2006, although it was still such tat that all all I ended up buying was an energy drink.  We just stayed long enough to win two silver strikes, both the same one as usual.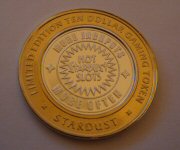 We never got to see Wayne Newton there or make a bet in the daddy of all sportsbooks.  Which, for people like me who missed the first fourty years of the Stardust, are pretty much the only things I can really say I know about it.  Oh, and it still did look pretty cool at night.  I do hope they leave the lights on until it finally falls over.
The Stardust will be be imploded to make way for Echelon Place, due to open in 2010.
Continue reading Another one bites the 'dust