Is Welsh Cheddar an oxymoron?  I was not aware of Wales as a great cheese-producing nation, let alone producing a quitessentially English cheese from Somerset.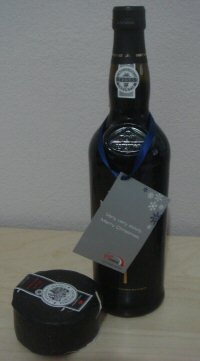 Nevertheless, I received a nice lump of Welsh Cheddar – made by the Snowdonia Cheese Company no less, it's mountain cheese – in the post today, along with a bottle of port thanks to the people at Virgin Trains, who are still convinced that I'm a VIP.
I requalified for another year of Traveller by booking eight return journeys from Stafford to Cheltenham Spa for just under £600.  I collected all the tickets but didn't use any of them and didn't even need to send them in – the system flagged me for renewal automatically from the online bookings.  I'm still wondering if there's double value to be had here by using those same physical tickets to get a second membership for someone else…
The perks, as well as the occasional free cheese, are unlimited weekend travel anywhere on a Virgin train for two people and it'll take no more than a dozen trips pay for itself.
I've already made two trips to London this month.  Just last weekend was the Spice Girls, which was terrific, and quite insane, and I'd go again in a flash.  Also we tried to go Christmas shopping but it was a complete nightmare; so bad we gave up and went to the cinema just to get off the streets.  Thirteen quid each you know – in the afternoon!
Unfortunately the Virgin network was cut in half last month (as was the Christmas freebie; last year there were mince pies too!).  They've lost the Cross Country routes so most of the free seaside weekends are out.  Torquay, Brighton and Bournemouth are gone, but at least there's still Llandudno.