I don't think there could have been a better time to decide to call it a night – and a trip – than after being dealt back-to-back pocket aces. I didn't make a fortune on them, but at least they held up.
The first time, I raised to $15 pre-flop after a couple of limpers and there was one caller who gave it up when I fired on a low, paired flop. Second time I got it all in against pocket kings, but he was short stacked, only sitting on about $50 at the start of the hand.
Even so, it was a three figure profit on the session and – as had been my M.O. that evening – I decided to quit with that profit as soon as the blinds came round again.  I'd been there an hour and thought I would playing a bit later on my last night, but this was always going to be my last session of the trip and I'd already realised the table wasn't that good. In fact, the few times I've played at the MGM Grand before it's never really been a great game.
I'd begun the evening at Excalibur, winning about $100 in an hour and moving on to Luxor. There, it took more like 2.5 hours before I hit a monster hand: nines full of threes. Yes, I had pocket nines, I can't believe you would even ask.
I flopped top set, bet the flop and three of us saw the turn as it completed my boat. I checked and we saw a free river card which happily completed another player's straight and he thought it was good enough to go broke on. I'm sure I would have done too, but I was the one running good this time.
One of the reasons I like to take in a number of different poker rooms in one night is that I just love soaking up the atmosphere around Vegas.  Strolling through casinos and between casinos, you get a chance to be around all the other action while you take a break from your own.
Starting at Excalibur I had options.  You can walk right through to Luxor, and then through again to Mandalay Bay without even stepping outside (and if it's fresh air you're looking for, staying indoors is usualy the right choice in Las Vegas).  There's a tram between those hotels, which I was going to use to get back if I went all the way, but for the time being I decided to take the walkway.
With half a dozen travelators to get you from E to L, it'd be just like an airport if it didn't connect a giant fairytale castle to an enormous black pyramid and just like an airport there are always people who just don't get the concept of a moving walkway.
In Vegas people must think that the 2mph conveyor belt ride is a free attraction, so it's only natural they would spread out to make themselves comfortable.
It's not called a moving standway, is it?  Shift yourselves, family of five..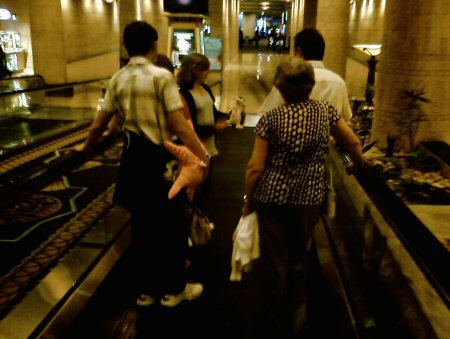 So glad you brought the kids to Vegas too.  Don't get me started on that.
Except to say that despite Luxor's attempts to de-theme and make itself "hipper", the faux-Egyptian cheesiness is still alive and well and living in the gift shop's children's clothing section.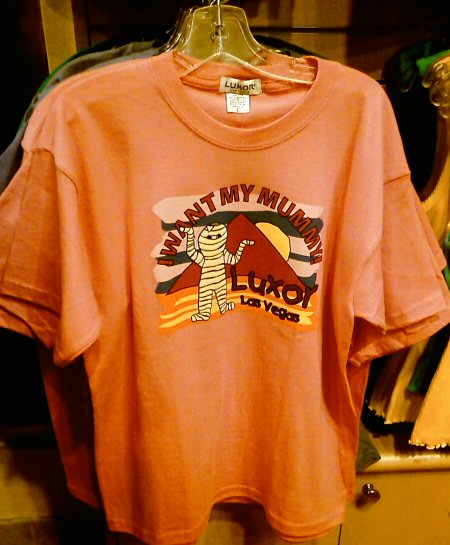 I was only in there looking for socks, obviously.
I was done at Luxor about half past midnight and I wasn't sure how late the tram would be running.  I didn't fancy the thought of walking all the way back from Mandalay Bay to the car if I got involved in a long poker session there, but I wasn't quite ready to go home just yet and I hadn't brought my camera (otherwise I would have gone straight up to Mandalay Bay and taken the slow way home) so I wandered back to the MGM.
I'd parked over the road at the Tropicana.  You have to fight with taxis at their bottleneck of an entrance, but dumping your vehicle in valet parking is the quickest and most convenient way I've found to get down to the South end of the Strip.  You can jump out of the car and straight onto either of the escalators to the walkways across the street without even setting foot in the Trop itself!
But I did call inside after I was done with all the winning to donate a few dollars to the massage chairs before driving back to the hotel.  They were a great find – I didn't think any casinos still had them.  Some people think them tacky, apparently.  The Tropicana either doesn't, or doesn't care.
I don't know why I felt compelled to take – let alone post – this picture, but here goes anyway.
That grainy exposure from my camera phone in dim light really doesn't do the shirt justice – it's much worse than it looks.