This just in: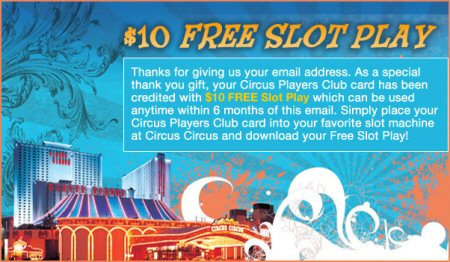 I used a few coupons at Circus Circus last month – a couple of table game match plays, $10 free slot play and a "get $15 in chips for $10" offer.  All this combined with a free monster hot dog at Slots-a-Fun almost makes a trip down there worthwhile.  Almost.
Circus Circus has a lot of haters, and after going back for the first time in a good few years I have to agree it absolutely deserves it.  Something about the place just started to drain my life force the moment I walked through the door.
And that was well before I had to negotiate any over-excited families of nine, kids eating candyfloss, adults chewing toothpicks, on their way to the RV park.  I can't explain exactly what the "vibe" was, but it definitely wasn't like you get at them regular casinos.
Maybe it was the promotional table game chips – you know it's a cheap-ass casino when they only have them in $1s.  This deal was meant to come with a pack of win cards, but they'd run out (long ago, I imagine, judging by the 30-or-so years of grime on the chips themselves).
Or perhaps the blackjack table I sat at had something to do with it.  It took the combined brain power of a dealer and a pit boss (and what was left of their life force) about ten minutes to figure out whether a coupon from their own "fun" book which said "good for any $1 side bet" could be used at their game.
The table had a side bet that cost $1.  So, yes.  It really wasn't worth holding the game up for.
Then one player asked the dealer, "do I hit that?" when he had a 16 and the dealer showed a ten.  "Oh that's a tough one, it's really up to you".  Great, it was well worth asking.  Do you not know, or have you been told to help the player make mistakes?
I'm guessing she wasn't aware of all the hard work that lasvegasdealertips.com has been trying to do for dealerkind.  "Your dealer will help you out because they like getting money" is the pretty much the message of that web site.  In fact, Circus Circus dealers get the worst tips on the Strip, and it's not close.
Anyway, even with this $10 free slot play still to claim, I'm still not sure I'll be back in a hurry.