"Your room is in the North tower, 18th floor. The first elevator on the left is an express elevator".
I didn't really think too much of this at first, until I saw this sign.
Harrah's Laughlin has suites? They've never, ever appeared as options when you try to make a reservation online.
So am I actually kind of a big deal or what?
Maybe it is because I won last time? Or perhaps they felt sorry for me because I didn't check in until 1am after a flat tyre incident just outside of Searchlight, NV – a town that has little more than a gas station and a Terrible's casino.
Searchlight is about half way between Las Vegas and Laughlin (and just about the only thing resembling civilisation along the way) and we decided that carrying on driving on the temporary wheel was asking for trouble – especially as we'd be driving back in triple digit heat on Sunday morning – so we took the car back to Vegas to swap it while it was (relatively) cool.
Bye bye Hyundai Sonata, hello Chrysler Sebring. Which is apparently an upgrade, even though it's much noisier and appears to be made out of 95% plastic.
The anticipation in the private elevator was unbearable. Would it be really be a suite?
Damn right it was. Separate living and sleeping quarters, with a wet bar…
… a large plasma TV in the bedroom as well as the living area…
… and another television in the bathroom (although out of shot below) which you could watch from the Jacuzzi bath!
In another separate room there was also a double shower!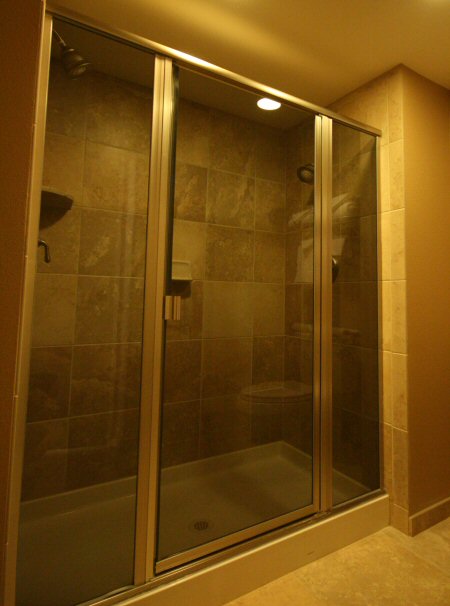 So we were winners before we started, but then Claire went on to hit three more royal flushes on the multi-line machine.
She leads me in royals 4-0 now this trip. Must try harder.