It's the return of an old favourite. Binion's are bringing back the million dollar display!
I assume it's not the same million dollars that Becky Binion spent before she ran the place into the ground, but you never know. Surely it is going to be clean, crisp hundies and not the rare $10,000 bills on display – but I guess you never know.
If nothing else, it's always reassuring to know that the place has a million to hand.
In other changes at Binion's, I'm sure the pastrami sandwich has been downgraded a little. It's no longer touted as a "full pound of meat" and wasn't so much of a challenge to eat, although it's still pretty fine.
The poker room is also set for an overhaul.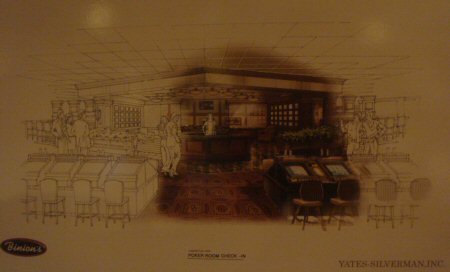 These pictures of the drawings on display aren't great but even up close I couldn't really figure out what was meant to be going on anyway.
I'm a little worried about this and it will be interesting to see what kind of job they do. There are dozens of spanking new poker rooms all over town; Binion's is the only one with that kind of history.