Harrah's love me now, it's official.
So I moaned a bit before about not having any good offers since I got Diamond, and they said it was because I hadn't actually played on any of the shitty games they had in Las Vegas.
Fine, I thought, let's give them some action and see what happens.
Claire and I spent not much more than an hour pumping money through the best video poker games we could find at Harrah's Las Vegas.  Tucked away in a bank of multi-line games there was one multi-line machine with 5c 10-play 9/5 Jacks or Better (98.5%) and the next best was 7/5 Bonus Poker (98.0%) at 25c.  Definitely not great, but the best of a bad bunch.
Between us, we racked up 355 base reward credits on my card which means we must have played $3550 in total.  If you reckon on a 2% house edge on those games, the overall expected loss is $71.  In fact we won a bit on the day because Claire of course hit about 25 royal flushes.
That expected loss number is not quite as bad as it sounds.  We also got a combined 606 bonus reward credits (how these are calculated at any given time is an official secret) taking the total for the day to 961, worth a whopping $9.61 in instant food comp almost anywhere at any of Harrah's casinos.
Except at Mon Ami Gabi.  I found this out the hard way.  You can't swipe your card there because it's not operated by the casino, although I asked at the players club about this later and apparently you can get a comp slip before you go to dinner if you care to guess roughly how much it's going to be.  However, our fake French waiter (who actually sounded Italian) didn't think to even tell us this, he just shook his head at my Total Rewards card and we had to pay using real money.
I'd be annoyed about this if it didn't mean I still had enough comp on the card to have to go back there again in the summer and do it right.  It was a fantastic steak with a fantastic view.  I'm kicking myself for only taking a picture of the latter.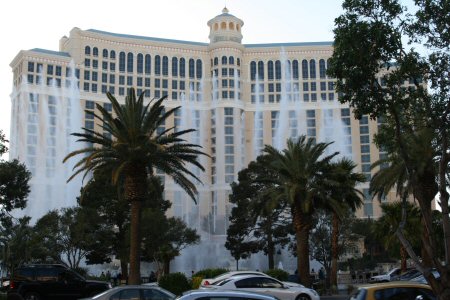 Anyway, it seems that $3550 of action in Las Vegas was enough to get me on the radar for room offers worth way more than $71.
Finally, the Imperial Palace is free!  As well as a "Deluxe Room", sometimes their web site gives me the option to book a "Luv Tub" room (putting a Roman bath in the rooms in an Asian-themed hotel is obvious, no) completely free of charge, and for up to five nights!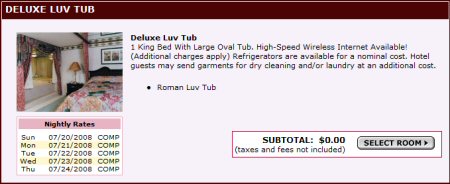 That's pretty cool.  The reservations site says "sold out" for every date I've tried if I'm not logged in so I don't know what they usually go for (they might even be restricted to players club bookings) but on the dates I can't get a comp the Luv Tub rates are about $60 more than a Deluxe room.
We don't need any hotel accomodation for the summer, but I might just book it anyway and take the little bottles of shampoo.  Or if anyone out there is looking for a good deal and the dates are right, buy me a drink and I'll think about checking you in 😉
There's also quite a few comps showing for me at Bally's, Flamingo and Harrah's and the odd night elsewhere, as well as reduced rates for all the other hotels.
The best bargain I found has to be four nights at the Rio at Christmas (the flights are already booked, need you ask) totally free.  In fact, it was only $50 to add a 5th night so I splashed out and went for that too.  If enough offers come along later to cover the rest of the trip, I expect I can always cancel that night anyway!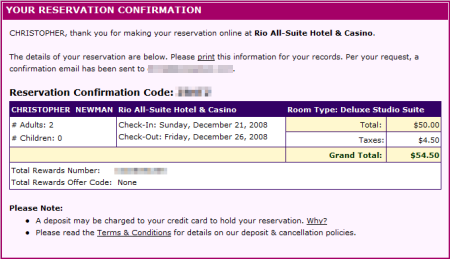 The best part is because every room in the Rio is a suite, I can finally boast about getting comped a suite in Vegas!