Happy New Year!  OK, I'm just about a full week late posting this, but I can backdate it a bit so nobody will really know.  Sshhh.
My top priority for New Year's Eve in Las Vegas was avoiding the zoo on the Strip.  Sure, I was going to miss some dude jumping his motorcycle onto the fake Arc de Triomphe, but I figured I'd cope.
So instead of bouncing into 2009 with a drink shaped like Bette Midler in my hand, I stepped back 40 years to go to the movies. 
For a long time, I didn't even know there was a drive-in in Las Vegas.  It's certainly not new though, as you can tell from the awesome sign.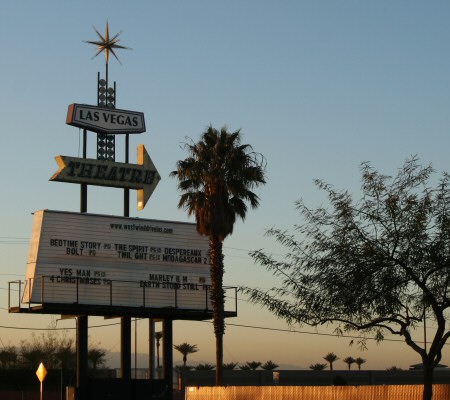 I must have driven past it several times without realising it's there, but unless you know what you're looking for it's quite easy to miss.
What you're looking for is a large screen by the roadside.  Easy when you know how.
It's an amazingly cheap operation, and I think that's part of the charm.  Basically a large slab of tarmac just off a major road with five screens made out of pallets, some projectors and a shed that sells popcorn.  I could have had a free refill on my one-size-fits-all barrel of popcorn, but I just couldn't face any more.
There was one girl on the gate and two staff in the shed.  If there was ever a business model to survive tough economic times, this must be it.
And I'm always a sucker for a distressed letterboard sign.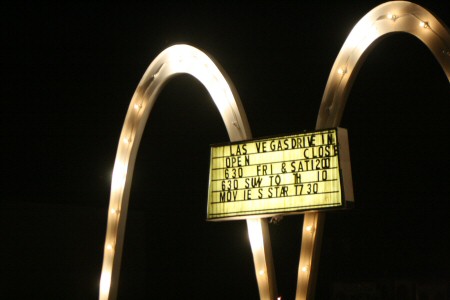 All the films start at 7.30, you just turn up and park at the one you want to see.  In fact, every night that it's not New Year's Eve, you get to see a double bill for one price.
We parked facing Jim Carey to watch "Yes Man".
To be fair, it's not the greatest cinematic experience in the world.  The projector didn't quite line up right (where's the top of Jim's head?) and the contrast was pretty poor.  The brightly lit casino right behind the screen means it's never really going to be dark enough to make out what's going on in the scenes filmed in low light.
At the bottom left of the photo, you can make out the top of Fiesta's neon sign.  It's quite animated, and always there flickering away in the background.  Forget about surround sound too, unless you have a really good car stereo.
But a cool way to spend an evening chilling out away from the hustle and bustle of the casinos?  Absolutely.  I wouldn't want to see anything I particularly cared about this way, but at $6.25 to let (normally) 2 brand new movies wash over you, how can you go wrong?  I would definitely do it again.
I got back to the Rio in time to see the fireworks.  The display seemed to be toned down this year, but that's probably an effect of the significantly reduced height.  Fireworks were launched from 8-story parking garages rather than the usual 40-story hotels and an 1,149 ft tall tower, thanks to the Monte Carlo roof fire earlier in the year.
Even though that was caused by molten metal as the result of a blowtorch mishap, and not by controlled aerial pyrotechnics.
It was pretty underwhelming.  We couldn't see much, but it turned out to be more than you could see on the Strip and on TV.  If you spin the second video to 5:05 you can compare it to last year and see what a difference it made.