We couldn't let the trip go by without spending an evening with Silverton Jim – at The Silverton of course.  I think it's actually the law.
It's a long time since I've been there, and it was just once several years ago.  As far as I remember it was only for long enough to burn a matchplay coupon and check if they had socks in the gift shop.  They didn't, but there were plenty of Hootie and the Blowfish shirts.
The Hootie endorsement has now gone, and the band's name has been removed from the Shady Grove Lounge as well as their mugshots from the pool table.  The lounge is still pretty cool though, and we had some fun in the skittle caravan.  I want one of these!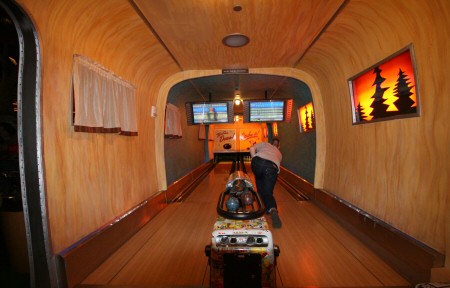 I couldn't tell you who won because the scores disappeared off the screen within 1/20th of a second after the last ball was thrown.  But I know it wasn't me.  There was never any danger of that.
The casino recently expanded and opened, among other things, a fabulous new parking garage.  You can tell its brand new from the carpets in the elevator lobby.  Given the huge amount of land they have at the rear, it's not really necessary but it saves a bit of a walk and gives you a slightly elevated view of the strip from a distance.
I really can't remember what's new from last time I visited but it felt much more modern than I remembered.
That was probably down to the mood lighting and the loud music.  I'm a big fan of having music to slap the "deal" button in time with when playing video poker, but the ambiance was a bit on the dingy side in parts.
While the pumping tunes went some way to satisfying the goal of "keep 'em alert and keep 'em gambling", staring at a bright screen in a dimly lit, slightly smokey room made me feel a little woozy.
I'm assuming there's been some renovations along with the expansion, and lately they have been going all out promoting the updated property with their new "Livin' Lodge" campaign.
I heard tons of commercials on the radio, saw a few on TV and one day the local paper had a Silverton sticker slapped on the front drawing attention to their advertisements, which you couldn't miss anyway as they were on almost every page.  Two on some pages, for recession-beating deals like "free Starbucks for all players" and "two-for-one on all food".
It was working – the place was heaving!  So much so that we had to join a waiting list to get on the waiting list to eat.  "Come back in 20 minutes", they said, "and we'll give you a pager".  It was decent food, it just took way too long.
The players club was my biggest gripe though.  They were swamped as it was the first day of a prize drawing (59 cars in 27.5 days, or some such random numbers) and rather than just have the computer pick a player's number to determine the winner, everyone was being given actual paper tickets to put into a giant drum.
Sounds like fun, until you realise that you have to write your name and players card number on every one, and Claire and I both got 35 tickets each just for showing up.  God alone knows how long it takes someone with some gaming history to complete all their bonus tickets.
I don't really get this.  It felt like I was writing lines for being a naughty boy.  I guess that's the price you pay for a free shot at a car, but even so they're encouraging players to spend a lot of time doing something other than gambling while they are in the casino.
Anyway, I speak a funny brand of English that nobody at the Silverton could understand.  Tourists obviously never stray so far from the Strip, so they don't need to worry about those darn foreigners.  What I wanted was one players card in my name with $10 promotional free play for a new signup, and a second card that Claire could play on so we could pool comps.
I think they were ok with the words "card" and "her".
What we got was two separate cards, one with Claire's name spelt wrong and that appeared to be linked to /dev/null rather than my account.  After she pulled the card from her machine, the points total just vanished and never reappeared all night.  Not only that, but they had unwittingly screwed up our cunning plan to be able to sign Claire up again as a new player another time to get that magic $10 free slot play again.
If you understand the lengths I'll go to for a free $10, you'll know why this is a big deal.