The screenshot below shows my split times from a mad dash I had to make from Planet Hollywood to my room at the Rio and back again.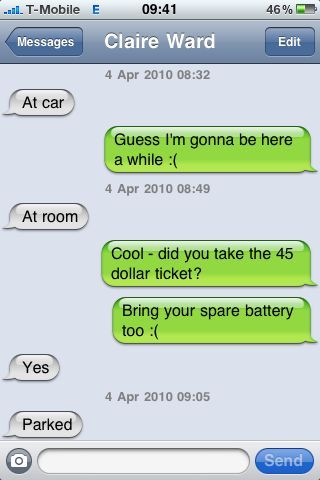 I think a round trip of about 40 minutes is a pretty respectable result to be honest. You can never underestimate how long it takes to get places in Vegas and before I set out I had looked at my watch, seen that it was 8:30am on a Sunday morning and reasoned that I actually stood a chance of doing it in under an hour.
At night there would have been little chance, and I certainly would not have taken the Strip.
The reason I had to make this little excursion? Claire hit a royal flush for $4000 and apparently her driving licence wasn't good enough to prove that she deserved to be paid.
Obviously the win was awesome – the second largest jackpot either of us had ever seen – but the buzzkill that followed was far from it.
To be honest, I should have seen this coming. We were playing at Planet Hollywood, which has recently been taken over by Harrah's, and the last time I had trouble proving I existed using an official British ID was at Harrah's Laughlin.
It was actually because of this ownership change that we were there in the first place. There's likely to be only a small window of opportunity between the P.Ho. being linked into the Total Rewards system and the video poker being downgraded to unplayable paytables.
It was still far from great with 99.2% bonus poker and – at best – 0.3% back in comp. It's a very thin advantage play – and only if you assume that your action is going to be enough to get some good room offers.
Everything has dried up for me since the start of the year, despite enough of a session to retain Platinum status at Christmas, but we figured it was worth a go on Claire's account to see if we could keep the free suites at the Rio coming for just a little longer.
Without really thinking anything of it, Claire held an ace and a jack of hearts. Suddenly something beautiful dropped in.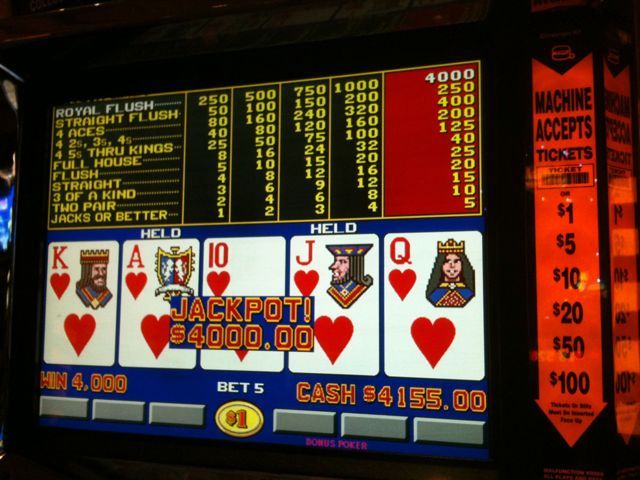 After a few cycles of the jackpot tune, the lady who had run off with Claire's ID returned to say that the driving licence was no good, and could she please produce a passport instead.
We've had hand pays in full with no such hassle from the Palms, Four Queens and even Terrible's. None of these casinos have high numbers of international visitors and you would expect, compared to a major strip resort, they don't have to deal with many big winners from overseas.
A driving licence is clearly a perfectly fine form of identification. Even just the photo card part. In fact I've never been asked for the paper half – even when renting a car!
Seriously, if Terrible's can manage it, You'd expect the world's largest gaming company would be ok.
But alas no. Two options: fetch the passport now or come back later to collect the money from the cage.
I really didn't like the sound of the second option. The way things were going, I would have expected to get there to find a random percentage deducted and nobody in the casino who knew anything about it. And that was the best case scenario.
Knowing that they couldn't silence the machine until they had paid the jackpot I told Claire to wait there while I sped back to the room and got her passport.
So this all started with a royal flush at about 8:15am. Yes, I love the smell of winning in the morning. I was back from my dash across town at 9:10am, and we finally got paid at 9:45am.
Apparently it still took another 35 minutes to count out four grand, even though they knew what was coming, and someone even told us once I'd got back that everything was ready and they would be right back. With the money.
No, we did not tip for this service. But I think they must have realised how shit it was, because nobody hung around with their hand out, and the last hundred was not conveniently broken down into twenties, tens and fives as it so often is – to make sure you have change to give away.
When the machine first burst into song, slimy staff were out in force. Anyone who was in earshot came to congratulate Claire in the most sleazy and obvious way you can imagine. The cocktail waitress wanted a piece too. I'd waited half an hour for my first coffee, but suddenly the service got much, much better.
The slot attendant who was first to respond was meant to finish his shift at 9am but when I got back he was leaning nearby pretending to do paperwork, and immediately came over to say goodbye. As transparent as you like.
No dude, we've not been paid yet so you're not getting anything.
It's a bad idea to play chicken with karma in Vegas so Claire and I talked about whether it was right to stiff the floor staff over what was, essentially, a brain dead corporate policy.
I felt they should be tipping me for having to drive to another hotel to fetch a document they didn't really need and for Claire having to spend an hour and a half of her holiday sitting and waiting. Claire said that as long as there wasn't a problem getting paid the full amount, the people we were dealing with were only following instructions – however stupid they might be.
But, after all that, we settled in agreement that another 35 minutes to take a photocopy of a passport deserved nothing but contempt.