Remember when the Internet was flaunted as the marketplace of the future, offering lower overheads to traders and allowing them to pass these savings onto consumers.  Stuff costing less online is one of the main reasons, besides porn, that the Internet has become so great.
It's not just Ticketmaster that seem to have forgotten this vision though, with their convenience charge (charged per ticket – clearly its more convenient when you buy several), building facility charge (think I might use the spa after the support act…) and of course the "if we can't charge you over the odds to mail your ticket, you still have to pay to pick it up" charge.  First class stamp – two quid.  Collect from box office – two quid.  You now even have the option to print your own ticket for some events.  Two quid.
The auctioneers selling off the remains of the Stardust also charge a premium for buying online.  The auction fees are 10% if you buy on site, or 13% if you buy online.  Who am I to question the logic behind this?  I'm actually more concerned with the logistics of actually buying, storing and bringing home something as wonderous as this: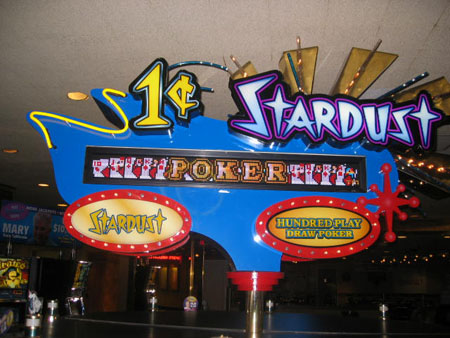 The auction starts a week on Friday at 11am PST.  That's 7pm over here – and can you think of a more perfect Friday night in than phoning for a curry and watching the sale of thousands of pieces of memorabilia from a classic Vegas casino?
Well yeah, you're right.  I do need to get out more.