This arrived in the post this morning: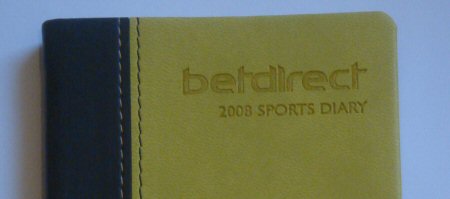 I don't like to look a free shit horse in the mouth.  But really, what's the point of sending out a promotional diary a full month into the year?
I guess it's a true reflection of just how unimportant a player I really am to BetDirect.  I'm sure those that gave them some good action last year got their pocket sports diary well before 2007 came to an end.
I bet they had boxes of the things, and they must have been working their way down the list with all the leftovers, finally realising they still had enough left to send to scumbags like me.
I placed one £25 bet, which I hedged with another bookmaker, and then took the £25 welcome bonus bet, which I also hedged.  Overall, doing this is worth about £10.  It's not spectacular, but it doesn't take long and there's no variance because one of your bets will always win.  There are plenty of sportsbooks with these free bet offers so you can double the value if you hedge using another site's signup promo.
Anyway, it's nice to know that when there's a decision to be made over what to do with a pile of surplus stuff, I'm still slightly favoured over chucking it in the bin.