This summer will be our fourth spending a month in Las Vegas in a rented house.
We've stayed in the West, East and South sides of the Valley so I was really dreading this year's inevitable trip to the North.
North Las Vegas scares the bejeezus out of me.  I can't explain why, and I don't even have any photos to try and illustrate this, but it's like a whole other world. And it happens suddenly too. Drive just a little too far along Main Street and it's like you stepped back 40 years – and not in a good way, like Downtown Las Vegas is meant to me.
Anyway, we're in the East again, which worked out superbly for us last year being pretty close to the Orleans (where I spent a week playing in the Orleans Open poker tournaments) and the Palms (which is an excellent casino for video poker, albeit just about the only one that doesn't think we're worthy of any room offers in the mail).
This year's home base is actually a little closer to the action too.  Streets and Trips finds 55 casinos within a 5 mile radius.  Orleans is still closest (2.0 miles away, but a 3.3 mile drive), then Palms (2.7 miles).
The quickest route to the strip is to the intersection with Tropicana Avenue (5 miles by road) which is where MGM Grand, Excalibur, New York New York and Tropicana all sit.
When traffic is good and the lights are with me, it's going to be 10 minutes to get the car into the Tropicana valet parking, just leaving me with a choice of which footbridge to take over the road to get to the next casino.
This is what it looks like from the sky, thanks to Google Earth.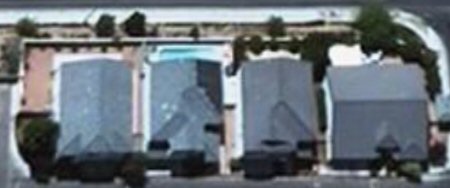 It's second from left.  The one with the pool. 🙂
"This three bedroom and two and a half bath home sits in the beautiful and well kept grounds of the Cottages. Secured in a gated community you'll enjoy very serene, peaceful surroundings.
Private back yard allows you to enjoy sunbathing poolside. The pool is just off the kitchen door with table and chairs for morning breakfast, lunch or diner…moonlight diners etc
The furniture, beddings and everything else are new, clean and comfortable. It's a paradise! Bring your clothes, put your feet up and enjoy all the comforts of home."
More pics: