It looks like my honeymoon with Harrah's is over.  Things are starting to fall back to how they were.
I just logged in to my Total Rewards account and I can hardly get a room comp at all any more.  Even at the Imperial Palace.
I shouldn't really be too bothered about that, because the IP was a bit shit.  And I'm not usually that fussy – I've stayed at some the really, really cheap hotels in Las Vegas.
Casino Royale, for instance, is a complete anomoly in the middle of the Strip and I'm sure it's tiny hotel (which is outside the back of the casino and across the parking lot) would technically be a motel if it wasn't for one set of outer doors, but the room was comfortable enough.  There's no bellman or room service, but there's a coffee machine and a fridge in the room and that goes a very long way.
When I stayed at the El Cortez a few years ago, before that scary part of Downtown was lit up and filled with bars, the room felt old but in an "it's got a certain charm" kind of way – not a "why haven't they knocked it down yet" way.  In fact, the thought of staying in a room that needed an extra coat of paint because a previous resident had bought a bullet and rented a gun just added to the character.
On the other hand, all I can say about Imperial Palace is that it was just kind of white.  I think they were going for a sterile, institutional sort of feel – which to be fair would suit the Asian theme of the property about as well as their weekly Hawaiian Luau, the Classic American Car exhibition or having a blackjack dealer that impersonates Stevie Wonder.
The pictures on their web site are somewhat flattering, suggesting that there is actually a subtle tone of colour in the bed linen and curtains.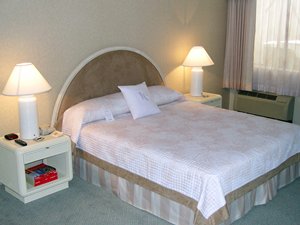 I don't remember that at all – unless I really wasn't looking hard enough, everything was just plain white.  Which, I guess, at least usually goes some way to prove that the room was clean.
As well as the plain white bedside units you can see in thie picture, my room also had a white pedestal table with white wood frame chairs and a large white entertainment unit with the TV inside.
One perk was the patio door with its own private balcony area, much better than the barred window I expected to find before I pulled back the white curtain for the first time.  From my 11th floor cell I had direct access to a 3ft x 1ft exercise yard as well as an amazing view of… other cells.  Hundreds of them.  In every direction
Even so, I'm still quite disappointed that I can't go back again for free.