Audio clip: Adobe Flash Player (version 9 or above) is required to play this audio clip. Download the latest version here. You also need to have JavaScript enabled in your browser.
If the audio player actually works, the music is in honour of my new favourite sandwich.  Some dodgy Chinese MP3 sites have been linking to the very few and very random songs I'd put on here, so I've had to add a little protection, but it seems to be a bit flaky still.  But I know that almost nobody will bother pressing play anyway.
I've long sung the praises of Binion's half pound pastrami sandwich from their snack bars as possibly the best sandwich in the entire world.  Today we ate in their coffee shop for the first time.  It's tucked away downstairs, where we were treated to actual waitresses (so means the person who brings you your food is not the same person who cooked it) and a menu which you could hold in your hand to read, rather than have to squint at a letter board on the wall.  Extravagant for sure.  But it certainly did not disappoint.
The Desperado is a three-meat delight: ham, turkey and bacon.  Throw on two different kinds of cheese and a slice of avacado for good measure.  I don't know why it was quite so good, but it surely was.  And, of course, thanks to my saved up poker comps, it didn't cost a penny!
That great meal followed a great poker session, where I finished up a whole $28.  Although I only cashed in for $23 as I wanted to keep this chip: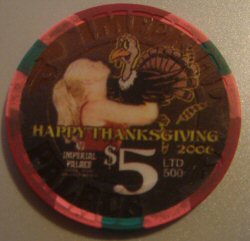 I'm not sure if the woman is someone you're meant to recognise, and then it makes more sense why she is kissing a cartoon turkey instead of eating a real one, or if it really is just as random as it looks.  Limited to 500 though, so I'm very lucky to have this.
Things were great to start with, when I played with the first no limit player I have ever been able to say with absolute confidence was indeed literally giving away his chips.  The dude looked like he'd been partying all night, and didn't know that the night was over.  Very much over – this was at 4pm.
Two women came over and rubbed their breasts on him "for luck".  It didn't work.  He paid off my nut straight on a board of AJT6 holding just one pair: T5.  I stacked him again shortly afterwards with a set, then after an ATM trip – which seemed like it took a week, and was the only reason the game kept going 4-handed – he folded a big blind for free first hand back (I can't even start to imagine what hand was that bad) and within a few minutes someone else had taken the last of his money after he called all in holding Q5 on a KKJ flop.  I'm not expecting to see that kind of action again for a while.
It was great while it lasted, but once he'd gone I gave almost all the money back to the table.  About even, again… 🙂