Technically, I guess this is a Strip view, there's just a great big hotel tower right in the way of most of the Strip.
In reality, I'm lucky to have got a free room from Caesars Palace at all, so I can't complain.
The room was on the 8th floor of the Roman tower, which is the oldest tower at the property. It's the original hotel building from 1966.
There's currently 5 towers, with a 6th on the way – which seems to have shot up by about 20 stories since I've been here, and even though this "Classic Room" is the cheapest of the bunch it still runs at about $200 a night, and $300 or more at weekends.
My recent play at Harrah's Las Vegas has re-requalified me for complimentary room nights at Imperial Palace, Flamingo, Harrah's and occasionally Rio, but not a sausage for Caesars. The best discounted rate I can find is $110 for a few weeknights.
That play has now secured my Diamond status through to March 2010, and I've also discovered a couple of other undocumented perks.
I asked for a new card to be printed at Caesars so that Claire and Vij could both clock up reward credits on my account for whatever they played, and it came on a bungee cord with an extra dangly bit.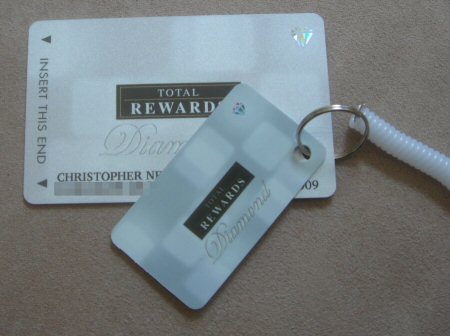 The lady told me this is so the cocktail waitress can see that you are Diamond and will therefore bring you more drinks. Awesome!
I also discovered, totally by accident, that I can jump the waiting list for live poker. I have no idea whether this works in all their poker rooms but it did at Flamingo.
I thought I'd seen an empty seat so I asked if I could get in the game, with $200 in my hand and my players card on top, ready to be swiped in.
"There's one ahead of you". I glanced up at the screen and indeed there was a waiting list. But then he said, "Is that a Diamond card? OK, you're top of the list".
And lo, there was my name on screen at the top of the list, in orange – to jump the queue, I was listed as wanting a table change. Sweet!