By rights, I should now have a photo like this one up on a Winners' Wall somewhere.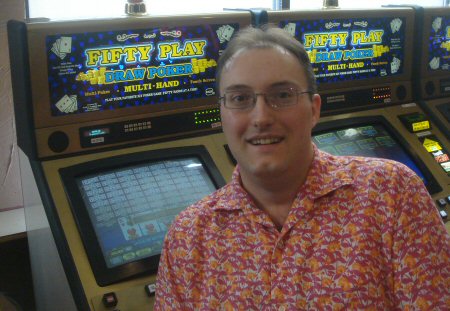 Unfortunately, Harrah's Laughlin doesn't have anything of the sort (and if they did, they probably would have asked me to change my shirt) so I'll have to make do with this one the dude sitting next to me took when I hit this video poker machine for TEN FREAKING GRAND!
It was looking like I'd go right through the trip without hitting a 40,000-1 royal flush at all. So instead I hit this 650,000-1 dealt royal flush on the bottom line of a 50-play machine.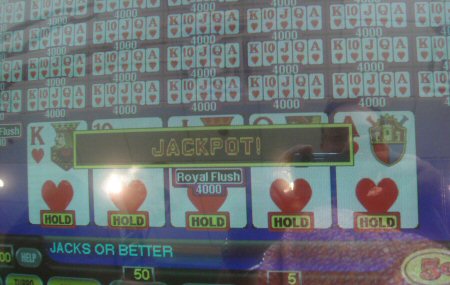 At 4,000 coins per royal, times 5c per coin that's $200 for each one. Fifty times. Just let me say it again – that's ten grand!
This must have been by an east-facing window (views of the outside world are permitted in casinos in Laughlin) because the glare on the screen from the morning sun is horrible. I couldn't get a very good photo at all, but at least I managed to get myself in the picture with this one.
The sign on top of this bank says "Hottest Slots of the Month". The players club actually compiles a list you can collect with the locations of which particular machines have been paying well lately. I'm assuming this one will stick around on the list for another month now.
If you played this game with a maximum $12.50 bet per spin for three hours every day, you'd see this miracle hand on average once a year, and to do so would cost over $40,000 even in this "full pay" (99.5% payback) version of the game. Most similar machines are much less generous.
I had hardly any time left before needing to leave – I had to get back to Las Vegas to check into the Imperial Palace and then get down to Binions to register for the tournament before noon – and apparently it usually takes about an hour and a half for the casino to issue a cheque.
Otherwise the whole process of winning was impressively fast. A slot attendant appeared almost immediately, the supervisor was about ten seconds behind and one started to fill in the tax paperwork while the other called up to the eye in the sky to make sure I'd shown genuine delight at winning, or something. No problem with the tax withholding, I gave them my ITIN and I got 100% of the money.
In cash. Counted out into my hand in the middle of the casino floor.
This is what ten grand in notes looks like.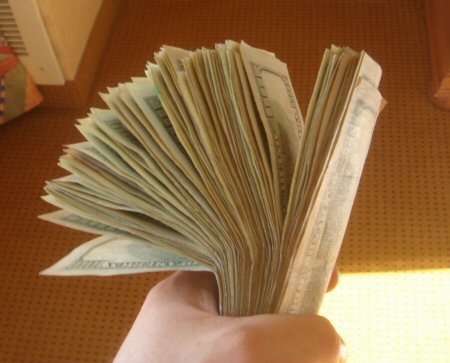 And yes, they do all have Benjamin Franklin's face on, this is not a made-for-TV brick of $1 bills with a $100 on each end.
Two hours later, it was in the bank (I'm not daft) and I still made it to Binions with ten minutes to spare – where I saw garbage for five hours, then lost a race with ace-king against a pair of tens.
So, live poker probably owes me a coinflip but I think it's safe to say that for the time being I'm sitting somewhat ahead of expectation at video poker.