Day 28, the end was nigh.  I just needed another couple of weeks to get even…
Video poker has been unkind to me.  No royal flushes.  No quad deuces on Deuces Wild.  But deuces came out plenty of times on Jacks or Better machines where it's worth $31.25 instead of $250.  I also hit more $11 natural straight flushes and $6 quad aces playing Deuces Wild than I care to remember.
I've had several requests for graphs (even though they're all from the same person) and the full 2-D horror in techincolor will follow shortly, but for now let's just say I was running somewhat behind expectation.
Video Poker owed me.  Deuces Wild owed me.  The Palms in particular owed me.
I wanted to catch Podcast-a-palooza which just happened to be going on that day at the Palms.  Unfortunately, dull but necessary stuff like packing meant we were a bit late setting out and it was quarter past kick off before I got there.
I didn't want to barge through the lounge to find somewhere to sit (it was pretty busy in there) while Tim and Michele were on air talking about bacon or foobs or Hall and Oates, so I lurked a bit at the back before realising I could hardly hear a thing from there and by now I may as well just wait and download the show so I could listen to it properly.
As a figure brushed by to introduce himself to Carrot Top, who had just appeared in the bar area behind me, I realised I was in the presence of greatness. 
I briefly turned into a teenage girl and sent a text to Claire, who was all of 20 yards away: "OMG Steve Friess just walked right past me!!".  I kid you not.
She brought me back down to earth with a crushing "who?", but I don't care.  While other people bothered some red haired comedian for an autograph, I wondered whether I had the balls to pull out my camera phone to take my picture with a real Vegas legend.  Of course I didn't.
And then the winning began.
I joined Claire on the multi-line video poker and was happy to only lose $100. This in itself felt like a win an going by past form.  The 3-play, 5-play and 10-play machines there have a positive expectation when used with at least a 3x points coupon, and it's a fairly quick way to take full advantage of a multiplier (you can earn up to 40,000 free points – worth $100 – per day) but they're pretty damn streaky.
Then I moved to Deuces Wild and the little bastard finally realised I was due.  Four Deuces should turn up about once every 5,000 hands, and I'd been dry for about 18,000.  Clearly it was my turn.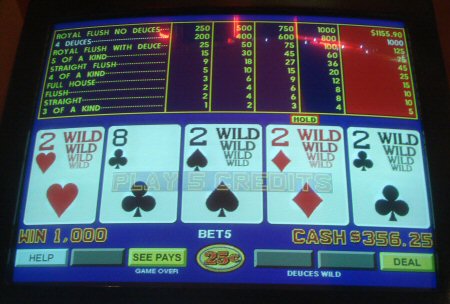 I took my $250 win to dinner and then decided to play some poker with nine cantankerous old nits.
How does that work? The Palms is meant to be a "hip" place.  They've got a rooftop bar, a Playboy club and a tattoo parlour.  It was Saturday night.  Young, apparently cool people were all over the place.  During the day and on most weeknights, Palms is pretty chilled out.  Tonight it was a total zoo.
Even the usual swarm of video poker pros had been frightened away.  In fact it's the first time I can remember (apart from the occasional jet-lagged 5am session) that I've ever walked past the bank of Full Pay Deuces Wild machines and there hasn't been a single person playing.  This was 9pm – prime time.
And yet the poker room was full of folks who were waiting to die, and not willing to part with a single chip until that happened.
I stole a couple of blinds and won one (relatively) big pot, with my ace playing on a two-pair board to take down $11.
Then an announcement revealed a lucky seat draw winner: table 8, seat 6.  I didn't really know what the hell was happening, but that was my seat.
"What did I win?", I asked, but nobody would tell me.  They'd talk about me, but not to me.  "He's won $250 I think".  "No, it's $200".  "He just got here, how lucky is that?".
"How does this work then?", I tried again.  They'd stare at me with daggers, but they wouldn't answer.
As the floorman came over to find the lucky winner, they all started trying to do some clever and amusing shit like counting the seat numbers in the wrong direction, or starting in the wrong place.  "Look, I'm seat 6!", said just about everyone. I did not LOL.
After I gave my players card, I looked directly at the old guy to my left, who was still mumbling something.  "Do you know how this works?", I asked.  "Yeah, you won $200 and now you have to give her $50", he replied, pointing at the dealer.
Then they all started to have a go and the price of poker went up.  "You gotta look after the dealer".  "You have to split it, half for her".
"So what happened?  How come I won?", I tried again.  I think some tumbleweed rolled across the table.  I still don't know how I was chosen for free money, but I sure as hell know that the dealer at my table had nothing to do with it.
It's not like I don't tip – they saw that when I scooped that monster $11 pot.  If it was a high hand jackpot or something, I'd certainly throw her something.  I'd probably even have done it for this mystery win if I'd been left to my own devices.  Even a polite "don't forget to take care of the dealer" wouldn't be so offensive as this bunch of vitriolic old bastards who couldn't stand to see someone else win.
For fuck's sake, going halvsies?  You're having a laugh.
But with anything less being clearly unacceptable to the table by now, I didn't really have much of an option.  I racked up and left immediately.  Screw you guys, I'm going home.  With what you seem to think is your money.
Claire was about even on the multi-play machine – another great result – and decided to have a punt on $1 Double Bonus.  She stuck her ticket in, pressed deal, then pressed draw, then threw two fists in the air before I'd even fully realised she had started playing.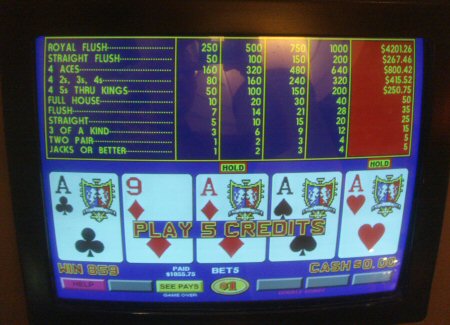 10/7 Double Bonus is normally a 100.2% payback game but the Palms has progressive jackpots for any four-of-a-kind or straight flush as well as a royal flush which makes it a little better still.  However the variance is high on a machine that costs $5 per spin and only gives you money back for two pair.  I've never seen a sniff of a win from the few shots I've taken at this game.
Claire's 4 aces – on the very first hand she played – was worth $859.
"OK, let's try $20 in Loose Deuces", she said.  I decided to do the same, calculating that if I actually hit four deuces (in this game it pays $625, but the other quads and straight flush payouts are reduced) then the sum of my two jackpots would just eclipse hers.
That's about the only reason, and I only bloody did it.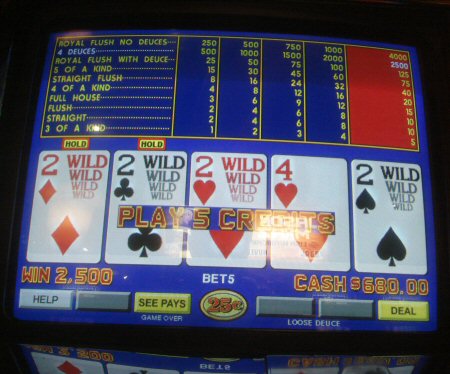 Definitely not a bad way to end the trip.  And even after that I went out and played a bit more poker and won another couple of hundred too.
I could still do with another week to get even though…