The one slot club sign up offer I always tell people they must take advantage of is at Wynn Las Vegas. It's very easy to earn a free buffet for two people which, depending on when you decide to eat, could otherwise cost you in the region of $70.
It's a great buffet, but somewhat overpriced if you pay for it the regular way.
This new player offer has changed since I last did one of these, but it's still great value.
You still get $10 in free slot play just for giving them an email address, but now once you have earned 25 points you get to "spin a wheel" for a prize.
It isn't a real wheel though, it's a video screen with a wheel that shows prizes ranging from $10 slot play to $10,000, and other prizes including, of course, two free buffets.
Even though it looks like the eight different segments are the same size, the odds of winning each prize are rather different to 1-in-8. In fact I didn't see anybody spin anything other than the $10 in slot play while I was watching.
But still, there's apparently a chance you will get a buffet for two after just 25 points earned, and even if you don't you can use the bottom prize of another $10 slot play towards earning it the hard way, by earning 150 slot points.
It takes $9 of coin in to get 1 point, so that's $1350 of total action, which if you play on a 99.5% game costs a theoretical $6.75. They pay you to eat!
You only get that payback on dollar video poker or 25c spin poker, but even if you play the 7/5 bonus poker game for quarters you can get 98.0% making the expected loss $26. Remember they give you $20 of that to get started so you're looking at $6 to feed two people there.  Still a bargain.
We ended up earning and redeeming two buffets on Vij's player account for Sunday brunch, which is $28.95 or $34.95 with champagne. Unsurprisingly, you don't get champagne included with the comp. We had to pay for the third buffet (I haven't yet found a solution to the dining in odd numbers problem) but this offer made the price digestable, theoretically about $5 each.
Here's the menu: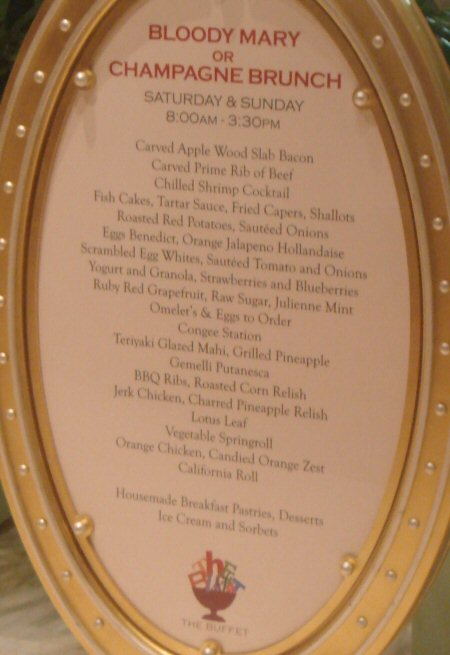 Brunch seemed like a good option when eating with a vegetarian because, if all else failed, there was an omelet station.
Even if this part of the menu made me get my red pen out:

Really, one expects so much better of the Wynn…