I'd played dozens of step tournaments to get this far and this was my first shot at getting something out of the system: I'd made it to Step 4 of a Poker Stars WCOOP Satellite.
With steps, you're never done until you either win a top prize or lose.  However unlike most of the live event satellites, the WCOOP Steps offers a choice of routes, some of which are much more achievable.
Instead of being stuck on a path that takes 6 steps to win your way into a $5,200 package ($7.50, $27, $82, $215, $700 and $2100) you can branch out at Step 3 or 4 to play directly for a $330 or $530 tournament seat.
I'd decided to go for the $530 route, with the intention of unregistering and keeping the W$ value for future speculation – or possibly towards buying into smaller WSOP or EPT events – should I get there.
In a 9 handed Step 4 sit-and-go worth $215 to enter, 3 players win a $530 seat and 1 gets $210 cash.  Everyone else leaves with nothing.
In fact, from WCOOP Step 3 onwards there's no backtracking.  You can't fall back to Step 2, only repeat the same level, move forward or lose completely.  This structure is designed to attract higher stakes players to buy in directly at the $82 and $215 levels.  It seems to work, and it can make these games pretty tough.
Anyway enough suspense.  My first crack at Step 4 was a terrific victory and will surely be an inspriation for other weak-tighties playing way out of their comfort zone.
I played like a rock, as did just about everyone else.  For example, how often do you see AJ check behind on the river with a board of TT7AA and a flush possible?  You really think the only hand that calls a bet there is pocket tens?
Then with just T1460 left in chips and facing a T300 big blind next hand, something beautiful happened.  Two monster hands and a big stack who felt like taking a crack.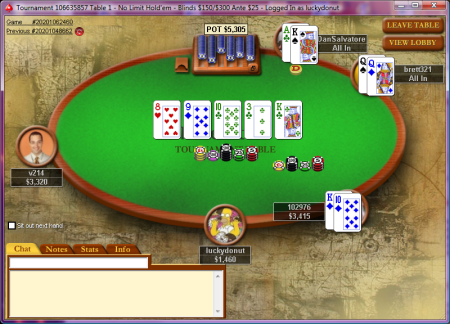 The double bust out threw me into the top 3 and a seat to Sunday's $3m guaranteed event, apparently.  The first time I've ever made it out of a Step series alive!
It took about 1.5 seconds before I'd unregistered and was counting my W$. 🙂