See if you can spot the subtle (but quite valuable) difference between these two invitations from the Wynn that Claire and I both received in the mail today.
You can click to enlarge the whole flyer, but to make things a little easier I've zoomed in on the relevant section.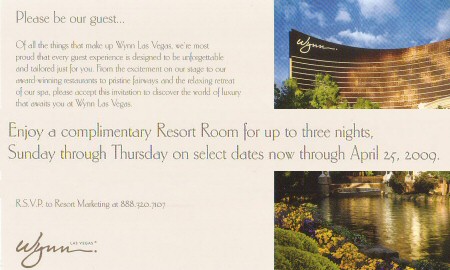 I can't believe I'm complaining about three free nights at the Wynn.  Well, I'm not really, because I should actually be able to use these offers next month.
But why does Claire get $200 in free slot play and I don't?  We've both exploited the same signup offer, and nothing more.  That room is a serious freebie for someone who has never given them any real action, but another $200 on top is incredible.