I learned two things at the races today.
First, my dad explained to me the difference between a hurdle and steeplechase.  I wasn't sure if it was a daft question, so I'm glad it wasn't.
Hurdle: all the jumps are the same height.  Steeplechase: fences vary and usually include a water hazard.
In my head, sharks with frickin laser beams are a possibility.
Second, I learned the name of jockey Ruby Walsh, who the crowd loved and chanted "Roo-Bee" at any availably opportunity.
The only name from the racecard I actually recognised was The Queen (obviously an owner, not a rider).
See, I really wasn't kidding before when I said I was clueless about horse racing.
Walsh rode two of the winning horses.  This one is American Trilogy: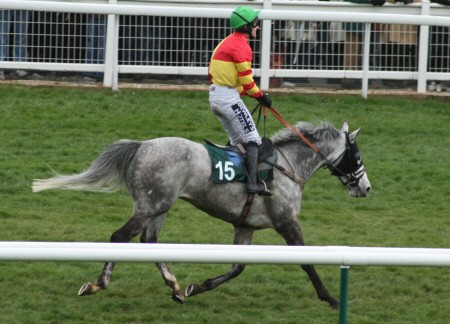 My sister backed this at 20/1, which meant she won enough to pay me back for the ticket.  So I felt like a winner too.
This is Kauto Star:
Everybody in the world seemed just keep on piling money on him, despite horribly unattractive odds of 2/1 or lower (I saw it as low as 13/8 with some bookmakers).
Perhaps if I'd bet on "Kay-tow" (as it was pronounced, but somehow with at least three syllables, by hundreds of Brummies on my train) instead of the three-legged beasts I actually picked by pretty much sticking a pin into my computer screen, I'd be able to afford a faster zoom lens with funky image stabilisation that would have turned this blurry photo into the triumphant shot that it should have been.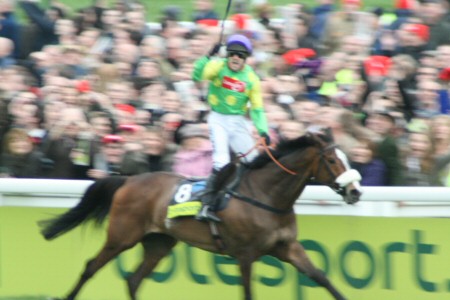 Squint a bit, it helps slightly. Maybe there's enough detail to use some clever "watercolour" filter in Photoshop and make it look intentionally like a painting.  Worth a go, I guess.