What better way to start the weekend than with a batch of casino mail to wade through?
I know some of the stuff is a couple of weeks out of date by the time it arrives but having a big parcel of offers forwarded from a mailbox whenever it fills up is surely more exciting than just having odd flyers arrive every few days.
It's still a little early to be getting offers I can use when it's 5 weeks until my trip begins, but there's starting to be some that will be useful.
Claire and I both got letters for a summer-long offer at Harrah's Laughlin. Hers said:
However mine was considerably better:

Free nights in Laughlin aren't hard to come by (Claire's "calendar rates" on the back of the letter show free for almost any weeknight). But cold, hard cash and free food just for turning up is always very nice.
Actually the $50 food credit is not quite what it seems as it's a one-time use coupon – even though it comes with a three-night stay. So if you just use if for a buffet for two, you blow about $30 of value. Then again, you're not going to feed two people at the Range Steakhouse for $50 (here's the menu).
Still, it's worth the drive just for this, and we're likely to get other Laughlin offers too. Today's mail contained June offers for River Palms (2 free nights and $5 free play) and Colorado Belle (2 x 3 free nights and $10 free play).
Back in Las Vegas there's still some deals. This time Claire had the upper hand at Gold Coast with this:
Compared to my measly offer:

To be honest I can't complain at this as I haven't played at Gold Coast on my card at all recently, whereas we still have about $600 of unused comp on Claire's card after caning the Super Times Pay machines (99.8% payback) on a 6x points day (1% added value).
Chances are we'll be booking Claire's offer but not using the room, just to get the $20 free play and at least one free meal at Ping Pang Pong.
The other Boyd properties had a little something to give too. Claire got another good offer from Sam's Town: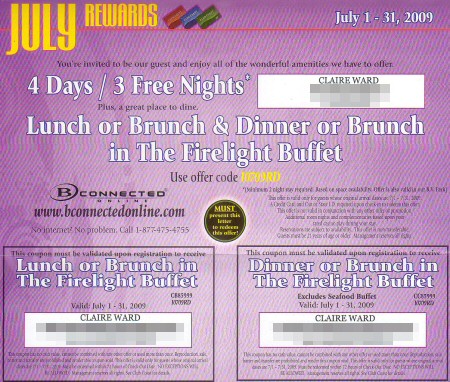 In fact, make that two offers. This mailer had the same coupons twice, once for July and once for August. However, it's not clear whether the free food is for one person or two. Usually it's two, but that information is notably absent from these coupons.
Whereas I got a freebie from the Fremont, which isn't bad when the only action they've ever had from us was one session on Pick'em Poker:

As the food credit is listed as "$20 in FREE dining certificates" – plural – I suspect it will be a couple of dollars here and $5 there. If I could be sure there'd be something for Dunkin' Donuts I'd be all over this one, but I just don't feel it. So as we don't need the room, I think we'll pass on this one and hope it comes again when it's actually worthwhile staying there.
The final one was a bit of a surprise. Green Valley Ranch apparently wants me to come and stay for free:
I can't remember the last time we went to GVR. It must have been for a promotion of some kind, maybe a blackjack matchplay or some kind of swipe-and-win. I remember being there, and vaguely recognising some of the places from American Casino, but I know that of all the Station Casinos this one is probably the one we've played at least.
Not sure if I'll use this. As absolutely-not-VIPs at a hotel that thinks it's something special, there must be a catch. My guess is that they would still want to charge Station's usual "resort fee" stealth tax on this comped stay. How much? Only $24.99 per night (see the very bottom of this page). Probably not worth it just to use the pool…