Readers of VegasTripping.com, I'm afraid you are wrong.
The recently announced "Trippies" award non-ceremony included this spiteful slur on what has become my favourite place to play poker in Las Vegas.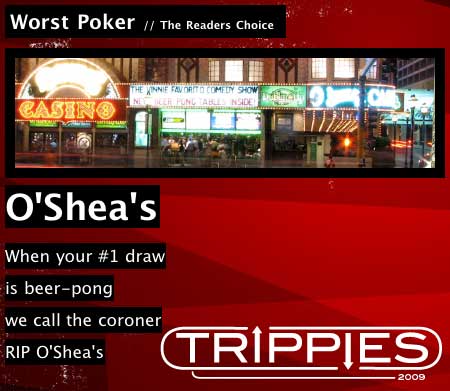 They may lose points for having a name with two apostrophes (one of them borrowed from Caesars Palace, no doubt), and yes it is just three small poker tables dumped by the door.
But if you've never played poker at O'Shea's – particularly on Karaoke night – you've missed out on the funnest poker experience on the Strip.  It always has the best view too.
Voters in this poll took themselves far too seriously and voted for the unwelcoming Bellagio poker room as the best place to play.
Do they have a house band that plays a cover of Tenacious D's "Fuck Her Gently" (and clientele that know every single word to sing along) over there?
Didn't think so.  Viva O'Shea's!