Some would say I was ahead the whole time.
I played The Powerhouse rather loosely from the small blind with a bunch of limpers, picked up middle pair, then free turn card brought me a straight flush draw. I foolishly ended up paying two bets on the turn, only having one out to the absolute nuts (although the bottom end of the straight flush isn't too shabby).  Very poor.  Another 5 (2 outs) or completing my straight (6 outs) would have got me into a whole pile of trouble with this garbage.
And then, magic.
The other guy had Jc Kc, and the river Ac had turned his second best flush into the best flush, but the second best hand.  Darn that four bet cap…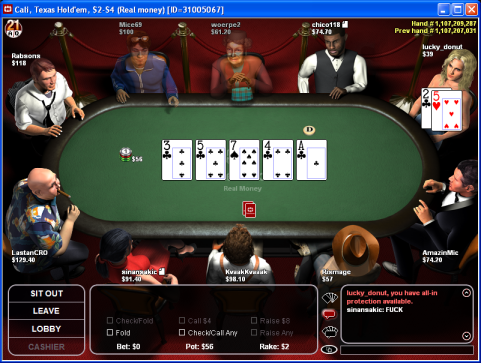 And then say hello to Mr Tilt.  Two hands later, this guy cracked aces with T7o after calling three bets cold preflop and getting involved with whole bunch of action when he flopped middle pair.
I have never been so popular.